Film Review: Zombieland
Posted by: Ian – Oct 03, 2009
It is interesting to watch as zombie movies cycle between serious films and parodies. Perhaps even more interesting is that the parodies sometimes surpass their inspiration and wind up being more enjoyable movies. This is the case with Zombieland. Like Shaun of the Dead before it, Zombieland adds a huge dose of comedy to the zombie formula to make for a movie that offers nothing but fun in the form of over the top zombie killing and nonstop jokes and pop culture references.
The film opens with Columbus, played by Jesse Eisenberg, reviewing his rules for zombie survival as he attempts to take a pit stop at a run down gas station. Ranging from cardio exercise to always fastening your seatbelt, we see his rules demonstrated here as we do throughout the movie. He will need to remember all of his rules if he is to make it home to Columbus, Ohio to check on his parents in the post-zombie-apocalyptic world he finds himself in. It also helps when he meets up with Tallahassee, played by Woody Harrelson. Tallahassee is the ultimate tough guy with a knack for killing zombies. He also does not want to get attached to anyone which is why he makes the rule of not sharing names. Everyone is referred to by the name of a city, presumably their home town.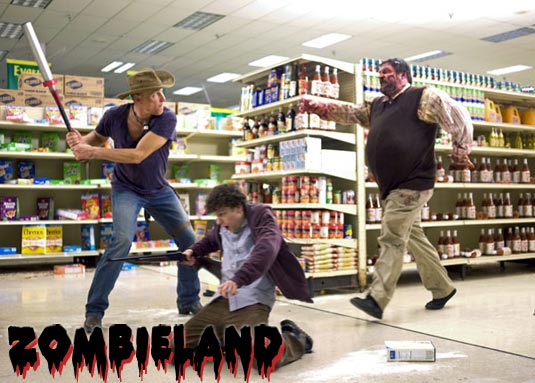 This is just one of Tallahassee's quirks. Much of the comedy in the film comes from his skewed view of the world, and his constant needling of the nerdy Columbus. His passion for killing zombies is only rivaled by his desire to find a Twinkie. As he sees it, the snack cakes have an expiration date, and that means that he needs to find the last Twinkies soon or he may never get to enjoy another one. It is this personal quest that takes Tallahassee and Columbus into a zombie infested grocery store where they meet two more survivors, the sisters Wichita and Little Rock. The two pairs are rivals for supplies and transportation at first, but eventually they make the logical decision to join together as the last surviving humans. They make their destination an amusement park in California which Little Rock is convinced is free of zombies.
The road trip aspect provides the opportunity for much of the conversational humor. As Columbus tries to make a move on Wichita, Tallahassee and Little Rock argue about the music of Willy Nelson and Hannah Montana. Once the group reaches Hollywood, Tallahassee decides they need a place to crash in style. After consulting a map of stars' homes, he brings them to a mansion with "B M" on the gate. If you have not already seen the complete cast of this film, do not spoil it for yourself. The mansion is home to an absolutely hilarious cameo, and the few minutes they spend with the star are the highlight of the film.
Many people will likely dismiss Zombieland as an American attempt at Shaun of the Dead five years later. This would be a huge mistake. Much of the appeal of the British parody was in the fact that those filmmakers were clearly huge fans of zombie films. They were having a great time making the film, and the feeling was contagious. This same charm exists in Zombieland. Though I would not say Zombieland is a better movie than Shaun of the Dead, it does have one major advantage for an American audience. The pop culture references are based on American pop culture rather than British pop culture. This time we can get all of the jokes.
By Gareth Mussen