It's mid-July which means we're waste-deep in the 2015 Richmond Mural Project, and we've got details on all the artists currently covering RVA in a wide variety of images and colors.

It's mid-July which means we're waste-deep in the 2015 Richmond Mural Project, and we've got details on all the artists currently covering RVA in a wide variety of images and colors.
As you travel the city, keep and eye out for the artists listed below, and take pics of their work (tag is #RMP2015 and you could win an original collab-painting by the artists!), and realize there's a lot of hard work that goes into this amazing yearly event.
Richmond is a destination for a lot of amazing things (beer-guts and bike-butts are top of my list) and murals only make our city better.
REMINDER: Join us at Sabai – 2727 W Broad St – Saturday afternoon 4-8PM for our mid-project celebration. You'll rub elbows with our international cast of artist and get the chance to ask them questions and generally gawk at their awesomeness.
So here's a list of the current RMP line up, along with a bit of background and links to full stories, as well as locations of their current paintings. Stop by and say hi, maybe bring them a bottle of water or snack or something, but just make sure you enjoy their hard work as much as we do.
Jason Woodside layers RVA walls with bright abstractions of circles and lines
Painting: July 9th-14th
location: 646 N 7th St
Born in Miami, but currently residing in NYC, Jason Woodside uses massive layers of color and shapes to create eye-catching murals that help shape the environment around the viewer.
"My brand if I had to sum it up in a few words, in one word, maybe optimistic. I enjoy making people feel good. I like inspiring a younger culture, to put things in front of them that's inspiring and to make sure that they know that they can make a living out of painting." – Woodside
DC artist James Bullough brings photorealistic spray paint murals to RVA walls
Painting: July 9th-14th
Location: 646 N 7th St
Originally form the states, Bullough honed his art skills in Berlin which became a street art Mecca after the fall of the Berlin Wall. His photorealistic work is both beautiful and meaningful, often aiming to inspire larger thought around social issues (as well as pretty-up some local walls).
Singapore's Inkten brings classic graffiti shape with modern digital appeal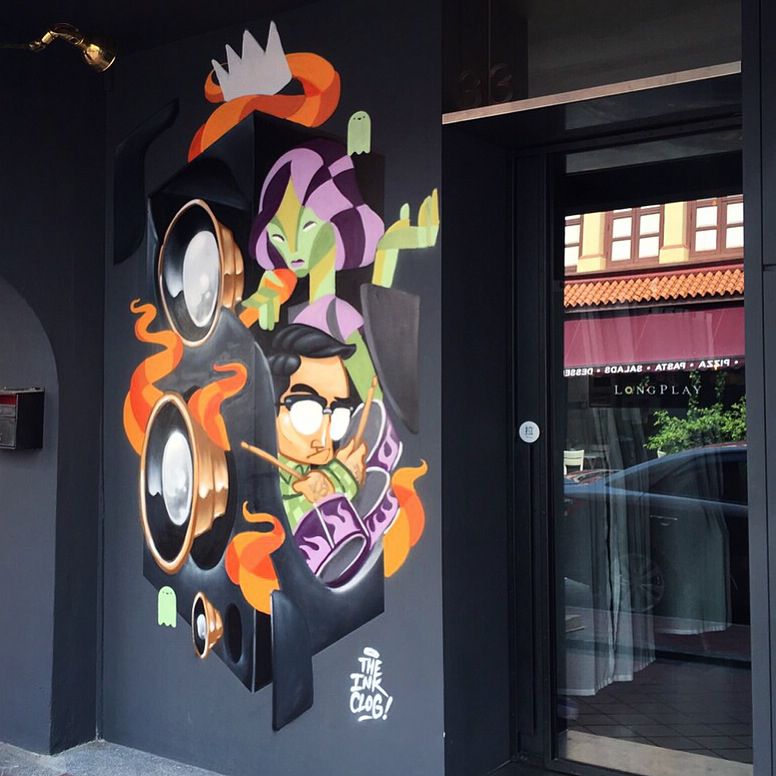 Painting: July 13-17th
Location: 312 Goshen St
Often paired with fellow RMP muralist Clog, the two travel the world (as Ink&Clog) creating murals and spreading their culture. They have become a part of a global community of graffiti artists traveling and telling stories through their art.
Queens native Jerkface invokes childood nostalgia with his colorful iconic cartoons
Painting: July 13-20th
Location: 807 1/2 w Clay St.
Though he was classically trained on canvas, Jerkface entered the New York street art scene in 2012.
"I've always been an artist, since I was young," said Jerkface. "I didn't do very well in high school and art was my way into college. From there I had a teacher who got me interested in cubism. I also got into graphic design and down the road the two became one."
The two come together beautifully in his toon-inspired work which is sure to grace all of our instagram feeds for years.
Singapore's Clogtwo brings colorful graphic designs and dark humor illustrations to RVA walls
Painting: 13-17th
Location: 600 N. Sheppard St.
Graffiti artist and fine arts practitioner Clogtwo's versatile multi-disciplinary work varies from huge murals to customized vinyl toys.
Also known as Eman Jeman, he describes himself as a visual anarchist who started exploring his artistic abilities from a young age. His style incorporates bold and colorful graphic designs and traditional drawings.
Die Jedi Scum series: The Making of Big Daddy from inkandclog on Vimeo.
Nils Westergard becomes first RVA artist to join Richmond Mural Project
Painting: July 15th-24th
Location: 300 block of Goshen
Westergard's journey began when he started painting theatrical sets in middle school and was also inspired to do stencils by an older friend. All of this then lead to his graffiti work. Selftaught with some help from Stencil Revolution.com, Westergard said he just kind of starting doing it and it worked, telling Streetart Europe he "just followed a lot of shit on there and learnt it from there."
The VCU grad's mural work translated into a great viral video you can check out below:
Dominican Republic's Evoca1 to bring realism and metaphor to RVA walls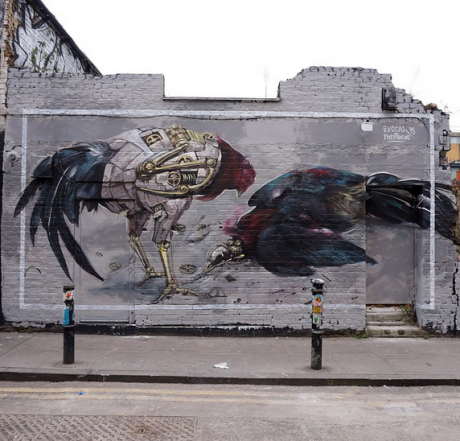 Painting:July 13-20th
Location: 727 W. Clay Street
Like many artists, Evoca1 was drawn to the creative world of art from a very young age. Born in the Dominican Republic, he spent the first 11 years of his life there before moving to Florida, etching giant characters into the walls of his bedroom and filling his notebooks with his obvious talent.
"My teachers tried to persuade my mother to enroll me into art school, but we grew up in really poor conditions and under those circumstances in the Dominican Republic, you either play baseball or work construction," he said in an interview with En Masse. "So I spent most of my life playing baseball. Until I was fed up and decided to pursue a creative field."
UK Artist D*Face to paint comic-inspired mural in RVA
Painting: July 19th-27th
Location: 108 N. 7th Street
London graffiti artist D*Face is said to be the modern day, angst-filled comic-art legend Roy Lichtenstein with a more perverse artistic style.
Crossing boundaries with his work, challenging American commodification, political tactics and relationship tension, D*Face's artistic style is viewed as both aesthetically pleasing and humorous. But he also has a message that requires one to think in an analytical way about society and what it truly has to offer.
Last but not least, Swiss muralist Onur returns to blow our minds
Onur has been making progress on getting his artwork really reach outside masses by collaborating with Wes21 on a mural in Portugal, Italy, Hungary, and in the U.S (New York City and Virginia). Just last year, he was in the city for the Richmond Mural Project where he worked on "Doom Loop" over by 501. E. Grace Street – Check out our interview with Onur and Wes21 here