So the holidays are right around the corner and most people were smart and got all of their shopping out of the way early, but for some people, (like me) they leave most of their gift getting until th

So the holidays are right around the corner and most people were smart and got all of their shopping out of the way early, but for some people, (like me) they leave most of their gift getting until the last minute and are scrambling around trying to find that perfect gift for each person in the same fashion the mom from Home Alone searches for Macaulay Culkin. "cue music."
For those scratching their heads rest easy, RVA Mag has compiled a short guide with some neat gifts that will help you cross everyone off your list while you support local businesses this holiday season. Check out our picks below and happy holidays!
For the last three years, Andrea Molzhon has been stitching her way into people's hearts with her online embroidery business. Selling a mix of snarky and floral-adorned handmade embroideries with everything from pictures of the family pet, to pop culture references, to rap lyrics, Molzhon has crafted quite a little niche business for herself. Embroideries range from around $12-on up depending on the detail of the design.
Melody Milleker, a Prince George County middle school art teacher, has taken nature into her own hands by creating beautiful earrings, necklaces, rings and bracelets made with different pieces she's collected from the wilderness. You can find Lonely Pine Jewelry at her Etsy page linked above, or in Carytown at Ashby or Orange stores.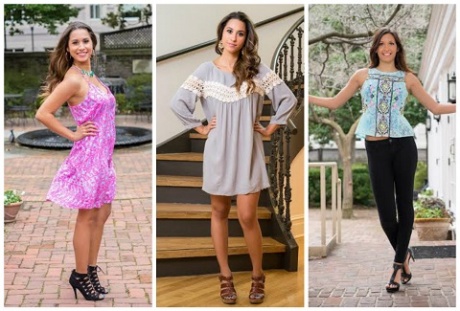 This RVA-based online boutique features trendy styles for the young modern woman. The shop carries affordable fashion that includes dresses, skirts, tops, blouses, cardigans and accessories and ranges from around $10 to $50. I can say from personal experience, this shop has a cute outfit for absolutely any occasion! And cool bonus, 10 percent of all sales that Trunk Up makes go toward Global Hope Network International, a Florida-based charity which helps those in developing nations by focusing on getting them access to clean water, nutritional food, education, wellness education to prevent disease, and helping them get jobs to get them out of an endless cycle of poverty. Check out our interview here.
This shop offers a variety of original print work, each pulled by hand, making each one original and unique. The prints range from portraits of people, places, and things all around Richmond. Prints and other items range from $20 to around $45.
This boutique just settled down in the West End after a few years solely online and features contemporary clothing, shoes and accessories, outerwear and intimates geared toward young women with most items under $60 and everything under $100. 431 N Ridge Road.
Avoid the Toys R Us lines and mayhem and shop local for the magical gift of a Christmas bike. Many bikes for kids are too heavy, or the handle bars are too wide, and just as expensive as adult bikes. This company offers high-quality, lightweight, safe bicycles that are designed especially for kids. Bikes range from $200-$400.
This shop features handmade wooden products that fit seemingly in every kitchen. Her online store features engraved cutting boards, hand cut sushi plates, spatulas, salad hands, and other wooden goods.
Bosnia-born Jasmina Zulic has brought her bohemian and vintage style line Mod&Soul to Richmond selling trendy and affordable dresses, tops, skirts, jumpsuits, outerwear and jewelry for young women. Her boutique opened up earlier this spring at 323 W. Broad St., near Quirk Gallery. All of her collection is $100, and 50% are under $50.
This shop offers a variety of pins, patches, shirts, prints and stickers for the outspoken and unique person in your life. Each item is handmade here in RVA. Just to give you a little glimpse, the shop has some Twin Peaks pins and one dedicated to an Unbreakable Kimmy Schmidt character. Intrigued yet?
Candy Valley Cake Company:
For those with the sweet tooth, I can personally attest that these bite-sized treats are the best around in RVA. The shop, located at 710 Lafayette St., has been making all sorts of cake pops in various flavors and custom designs since 2010. Candy Valley Cake Company has since expnaded with cakes, cookies, macaroons, cupcakes, parfaits and other sweet treats.
Coffee:
RVA has a plethora of coffee shops that all offer something unique and delicious it just depends what you like. Coffee, a mug, a gift card or basket from any local shop such as Black Hand, Lamplighter, Stir Crazy Cafe, Iron Clad, Lift, etc. will make the perfect gift for the caffeine addict on your list.
Original Gravity Home Brewing Supplies:
Since the explosion of craft breweries here in Richmond, home brewing has become quite a draw for many looking to find out what all the fuss is about. Lakeside's Original Gravity has everything you need for that someone who is itching to brew their first beer. From homebrewing equipment, to hops and yeasts, even classes for beginners, this shop will help you get you or the craft beer enthusiast in your life started on making their very own cold ones right in their own home. 6118 Lakeside Ave.
From tiny Trump hands, to notecards, to cookbooks to Asian collectibles and knickknacks to this cat bonnet (which obviously every cat lover needs,) Mongrel has just about anything you could want. Every time I go in I find something new and cool and unique.
This Carytown gift shop is also great place to go for unique, creative, and downright wacky gifts. They will have something for every person you're shopping for, I can promise you that. From the hilarious mouthguard challenge game, to Outkast Mad Libs, to R2D2 food storage containers it doesn't take long to find a treasure or two or three at this store.
Liquor: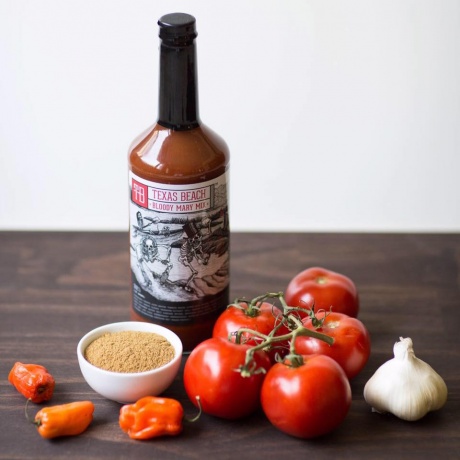 For the Bloody Mary lovers, pick yourselves up some delicious Texas Beach Bloody Mary Mix made locally (story here), which pairs nicely with James River Distillery's Oster Vit.
Throw a jar of olives and Tony Foresta's (Iron Reagan/Municipal Waste) hot sauce in there and you've made someone a nice little gift basket.
Brewery gift certificate/accessories:
You can take your pick from one of the nearly 20 we have here now. Or a gift certificate for the cidery or meadery lover is also great for those not crazy for craft beer. Beer swag is always a cool gift too (growlers, glasses, mugs, koozies, bottle openers). Stone Brewing Company has some awesome bottle openers right now that I just purchased. They have ones you can mount on your wall and regular ones.
For those who love the smell of campfires and outdoors, but don't necessarily want to be outdoors…or for those that do love it this is just a little way to remind them of one of their favorite activities. These candle are lighting up the shelves at Urban Outfitters and other local markets. The shop carries several different scents including Bayberry, North Woods, Big Sur, Balsam Fir, Tobacco Black Pepper, Fig & Sage, Grass & Cedar, Rosemary Mint, Leather& Smoke, Winter Pine, Basil and Campfire. Read our interview with the company here.
For the music lover:
Of course, we wouldn't be RVA Magazine if we didn't have music incorporated in here somewhere. For the music lover in your life, there are an abundance of gifts to choose from and you can't go wrong with any of them.
Concert tickets to The National or The Richmond Coliseum are a great way to catch some local shows and even some bigger acts that come to town. For the avid record collector, a gift certificate to Plan 9 Music is great if you're not sure of their tastes so they can peruse on their own for that rare treasure or find. The Carytown store recently picked up a David Bowie box set which looks super awesome so check out their Facebook page for the latest arrivals.
Vinyl Conflict is another good local record store for the punk/metal/hardcore fans out there.