With platforms such as Twitch and constantly changing technology, it is a fact that computer and video games will always be here to stay. However, before we had Mario and Link saving their respective princesses, there was a system that solidified itself for life in the hearts of American gamers. A time of cabinets, a steel ball, plungers, and flippers instead of controllers or headsets. That's right, I'm talking about pinball.
In his latest book, triple threat Adam Ruben weaves together the history of pinball in his new book, Pinball Wizards: Jackpots, Drains, and the Cult of the Silver Ball. Ruben, who will come to Richmond this weekend for a reading, signing, and even a few rounds of pinball, is a comedian, a molecular biologist, and he was at one point ranked 80th in the world for competitive pinball.
The author and pinball fanatic examines the war-themed and gambling machines, to the golden era of pinball, why it soar in popularity, its decline, and its resurgence. In Pinball Wizards, Ruben also heads to gaming conventions, museums, and meets with pinball designers and factories to find out what makes these "wizards" so good and how this simple, yet complex game has stood the test of time and garnered a cult-like following.
"I think there is something more interesting about a physical game that requires that much of your concentration," Ruben said. "Knowing that you have a thousand things to think about and not a lot of time to think about them, you've gotta weigh all of these things against each other while figuring out what shot to take and all while trying to save the ball."
While pinball games as we know them can be seen as far back as the early 1930s when the first coin-operated "pinball machine", called Whiffle Board, was invented by Automatic Industries, it really became a part of pop culture in the 70s and into the early 80s, known as "the golden age" as arcades began popping up all over America in strip malls, restaurants, and movie theaters.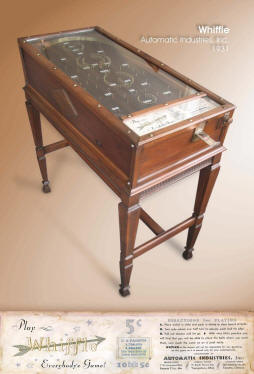 With the introduction of video game consoles, the trend began to fade in the late 80s and early 90s, but lit up again in the last several years with arcade bars opening in Brooklyn, Philly, Los Angeles, and even right here in Richmond. Americans and old school gamers haven't forgotten about their favorite past time, and it seems its slipping into more and more recent media such as Netflix's hit Stranger Things which revolves around 1980s American pop culture.
But what is bringing this resurgence on recently? We can certainly look at nostalgia marketing such as Stranger Things or how companies such as Nickelodeon and Disney are advertising toward adults who grew up during these eras. Ruben believes companies aren't getting into for the money that's for sure, but for the pure love of the game.
"I think the reason for the modern resurgence is part of its nostalgia, people like things they grew up with," Ruben said. "I think there's something different about this resurgence, it's something organic. It's not companies jumping to make pinball machines because it's profitable, it's companies jumping to make pinball machines saying 'We really shouldn't be doing this, it's crazy but we just love it so much.'"
What makes this go around different than the past is the fact that we are ready to drop money on what reminds us of our childhood, what made us happy. This is why nostalgia capitalism is such a profitable sub-genre right now, and while it might dip a little as with any trend, pinball will ultimately survive.
"Pinball has continued to exist in this era that completely doesn't need it," Ruben said. "We have entertainment whenever we want, and it's in a little glass rectangle in everyone's pocket. Pinball requires you to go to a place and spend money into [this] 250-pound thing that occupies real estate. The fact that it hasn't dried up yet says to me that it is never going to go away."
With such a strong foundation to support it, pinball definitely has some sort of solid future ahead of it, although Ruben is understandably hesitant for you to quote him on it. Regardless, he said there could be some extra lives for pinball ahead.
"Where I would love to see it go, is somewhere where pinball is approaching being as ubiquitous as it was during the arcade boom," Ruben said. "I remember going to get a slice of pizza and there was a pinball machine. I would like to see a place where it isn't just the arcades and bar arcades that have them, but that it's normalized again."
Obviously, Ruben has decided on a favorite pinball machine at this point (it's The Twilight Zone), but the real question I had was how would he design his ultimate machine. He had a few ideas bouncing around.
"Lots of ramps, lots of gadgets, that's the big thing for me," Ruben said. "[I want] the cool new interactive toy that someone has invented, and no one has ever seen before. [I would want] something like a jump rope, or the hologram in Ghostbusters and Dialed in. It would have a lot of toys, so many toys it would probably break."
While myself and others are surely looking forward to hearing more about how Ruben used his comedy background to turn his history of America's greatest game into a fun narrative, he has some more specific hopes for his upcoming event on Sunday.
"Honestly, I'm looking forward to playing the machines that are there," Ruben laughed. "I'm interested in meeting other people who are love pinball, and answering questions people have about the book."
Nostalgia definitely plays a part in keeping the pinball spirit alive and well, but one thing that will always keep those neon lights aglow and the wind up sounds of the machine going is the way it brings people together. Whether you're young or old, there is something that will never not be satisfying about flinging a steel ball as hard as possible until it hits the back of a box, earning you the highest score and bragging rights as you enter in your initials with your cramping fingers.
Ruben will come to the Richmond Pinball Collective, located at 9550 Midlothian Turnpike Unit 112 on Sunday, June 10 for a book signing and reading, from 2-3: 30 pm. Arcade free play will begin at 3:30 pm until 7:30 pm. 
Top Photo By: Pinball Creative