RVA Mag bring to you its seventh installment of GOOD EATS RVA, and its filled to the brim with restaurant news, new menus at local eateries, chef series and more.
Just as before, we've got a huge helping this go around, so make some more room on your plate and pull up a chair and get ready for some GOOD EATS.
So in case you missed it, we've had a few big pieces of restaurant new lately:
Capital Ale House to open Fest restaurant and biergarten
Sometime this summer, Capital Ale House will open Fest, a restaurant and biergarten in Midlothian in the Woodlake Commons Shopping Center.
Blending European favorites with local ingredients, the restaurant will serve Virginia-made artisan sausages in addition to Fest brand sausages crafted by local butchers. Also on the menu are cheeses, charcuterie platters and the restaurant's popular giant Bavarian pretzel.
Keeping with European tradition, Fest will offer 13 to 16 taps with German, Polish and other European brews to pair with the artisanal sausages, along with several Virginia craft beers. Simmons said they are still deciding on the specific beers that will be served. You can read more on the restaurant in our interview here.
Speaking of beer gardens, The Hofheimer Building recently opened their own along with a taproom called The Hof Garden.
The beer garden is two floors, with the taproom located on the first floor and the rooftop serving as the beer garden. It has 22 taps with 15 on the roof and seven downstairs featuring mostly European brews such as Hofbrau, Weihenstephaner, Ommegang Rosetta (which is brewed by Duvel-Moortgat in Belgium), Brouwerij Het Anke's Lucifer, and Achouffe along with regional brews.
The Hofgarden will offer up a menu of German pub fare including sausages, cheeses, mustards, sauerkraut, German potato salad and cabbage along with a few of their own creations and small plates. Read up on the new German-inspired beer garden in our interview with co-owner Annie Snipes here.
Now onto recent restaurant/food happenings:
Street Food Festival on Brown's Island
For those that can't get enough of food carts or street food, you're in luck because an entire festival is coming to Brown's Island in June. During the Street Food Festival, each vendor will act as a "hawker", serving three signature dishes that are defined as true street food. In addition to food, festivalgoers can enjoy non-alcoholic international drinks as well as local bands.
The festival is being put on by Party Liberation Front Foundation and LX Group, the umbrella organization for Kabana Rooftop, Belle & James, and Kabin Lounge and The Sheppard in DC.
LX Group has booked nine local bands to perform throughout the day including The Southern Belles, Cris Jacobs Band, Mighty Joshua & Zion 5, King Easy, Red Light Rodeo, Horsehead, Eastern Standard Time, and Life on Mars: David Bowie Tribute.
Alisha Wieckmann, Marketing & Talent Buyer for LX Group said they have booked 10 local vendors for the Street Food Festival with culinary options that span the globe.
"Every vendor is different, we're going to have Venezuelan, Mexican, a Thai vendor, the typical American carnival food," she said. "It's all ages so that way kids and those who aren't into the other vendors have an option."
She couldn't reveal all of the vendors just yet, but said Belle & James would be providing French street food for the event.
In addition to live music and food, expect craft beer from breweries through Brown Distributing, Breakthru Beverage Group for liquor and Constellation Brands will be providing the wine.
The festival will also have live artistry and craft merchandise like jewelry and clothing for sale.
The Street Food Festival takes place on June 24th at Brown's Island. Early bird admission is $8 for general admission. VIP is $25 which includes private tent access, a free food and drink ticket, and access to full service bar. Tickets here.
Eleven Months opens in Carytown
Hamooda Shami, owner of Don't Look Back and New York Deli has opened his highly-anticipated revolving pop up restaurant Eleven Months in Carytown. The restaurant will have temporary themes that will switch up every year.
"The idea of Eleven Months, which is going to be the permanent name… every year we'll shut down for a month for a remodel and it will open with a new concept," Shami told RVA Mag in our Spring 2017 #28 issue. "The idea essentially is every year, it's mostly cosmetic changes, light fixtures and furniture, but also the food and beverage menus. We've been saying extended recurring pop-ups, when in actuality it's more like a temporary restaurant. From the day we open there will be a large clock in the restaurant at Eleven months and when that hits zero, that concept is done.
Their theme for the newly opened Carytown restaurant, located near Chop Suey Books, is "Best Friends Forever" with the menu, decor and drinks reflecting that.
"Think Moonrise Kingdom meets Freaks And Geeks," Shami told RVA Mag.
The menu is an eclectic mix of burgers, salads, sandwiches, chile rellenos, and chicken and steak dishes for dinner. The steak entree includes artichoke potato hash, asparagus, and chimichurri. Thy also have seared calabaza with roasted corn, garbanzo beans, santa fe red chile sauce, smoked yogurt, fresh herbs, tostadas, & a flourless red chile chcolate cake with pinon brittle that sound delicious!
Check out the full menu here. You can read our full interview with Shami about his new latest concept here.
Belmont Butchery competes on "Chopped" tonight
So I need to confess that Food Network's "Chopped" is one my favorite shows on TV. I can't help it. I'm addicted. The show puts four chefs against each other as they race against the clock in a three-round contest to make the best dish for a panel of judges using a basket of secret ingredients.
They've used everything from gummy worms to chicken in a can and whoever makes it to the end wins $10,000. It's dramatic, it's intense, and it has fooled me into believing I can take random ingredients in my fridge and pantry and whip up a meal worthy of a fine dining restaurant.
Anyway, more to the point of this, Richmond's very own Tanya Cauthen of artisanal meat shop Belmont Butchery will compete this Tuesday on "Chopped".
There will be a viewing party with the Belmont crew from 9 to 11:30 pm at Branch & Vine at 2001 W. Main St. Chopped starts at 10 pm. There will be beer, wine and maybe snacks available for purchase.
Richmond Wine Festival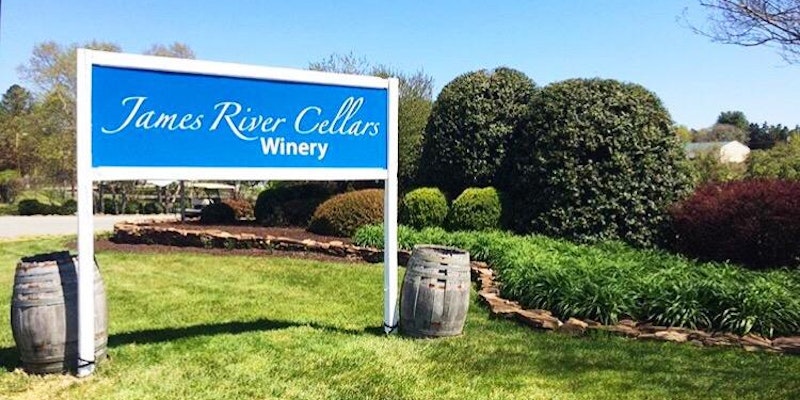 The Richmond Wine Festival will kick off at James River Cellars Winery this Saturday, May 27, with local wine, cider and mead, music, art/photography, and food trucks! This event is dog and kid friendly so bring the whole family! A general admission ticket includes 24 wine tastings and a commemorative wine glass! Oh yeah, and wine slushies! Participating wineries/cideries: James River Cellars, Skippers Creek Vineyard, Saude Creek Vineyards, Blue Bee Cider, Buskey Cider and Black Heath Meadery. 11008 Washington Hwy, Glen Allen. 12-5 pm. GA $25, VIP: $60. Tickets here.
Quirk's Spring Menu & New Cocktails:
So we are a little late getting this up, but Quirk Hotel recently invited us to check out their rooftop's new spring menu, cocktails and updated space and we wanted to share it with you in case you hadn't had a chance to check it out yet. It's tasty and the view of the city is amazing and the cocktails are perfect for a hot day, which is exactly what we had when we went to get the lowdown on what's now called "Q rooftop".
The boutique hotel on West Broad Street recently opened their rooftop back up for the season in mid-April and features light bites and seasonally-inspired cocktails. The Rooftop Bar will also feature the one-of-a-kind Quirk Beer, curated by local brewery Hardywood, brewed to honor Richmond's history as the first city to sell canned beer in 1935.
The spring menu included "Q" Rooftop hot dog, grilled swordfish tacos, crispy pork belly steam buns, Lamb & rosemary sausage, smoked chicken tacos, spicy shrimp steam buns, ginger scallion crispy rice and sides like fried pickles and potato salad. The menu's cocktail menu includes the Quirk Cup (Amaro, Pimms, rhubarb shrub, ginger lemon soda, rosemary), Love and Happiness (Grapefruit vodka, house made cassis, lemon, chamomile lemongrass syrup), a fig daquiri, Iron Society (bourbon, strawberry rhubarb shrub), The Bowtie (bourbon, lemon, maple ginger syrup, grapefruit soda, organe flower water), a tequila and absinthe cocktail called Modern Day Hemmingway and Open Port (byrrh, cachaca, cocchi Americano, amaro, lime, soda).
All of the main small plates range from $7-$10 and nothing above $14 for cocktails. RVA Mag had the chance to try the crispy pork belly teamed buns and the smoked chicken tacos. Both were absolutely delicious and perfect-sized portions to pair with a happy hour cocktail.
The smoked chicken tacos had a cumin tortilla which was interesting to say the least, a mole sauce, black beans, jalapeno and queso. The chicken was very tasty and went nicely with the other ingredients, sort of rustic and fresh.
The crispy porkbelly steamed buns were just flavorful and were the perfect little snack. The meat packed a ton of flavor, and the glaze and pickled veggies made for a nice combo.
Now on to the drinks. Web Editor Brad Kutner and I both had the Love and Happiness and the Quirk Cup and could not get over how delicious and pretty they were.
Love and Happiness was bright, citrusy and refreshing and it will get the job done. I loved the grapefruit taste and it wasn't overly sweet, which was good since I don't do the super sweet mixed drink thing.
Everyone should try the Quirk Cup if that's the only drink you try on the menu. I was talked into getting that one and I'm glad I did, because it packs a punch, but you get a taste of all these different flavors on your palate from the ginger to the rosemary to the citrusy lemon soda. Im not normally a fan of ginger in my drinks, but this was one of the best cocktails I've had in Richmond. Both of them were. Pair that with the food and the view of the city and you have an awesome night.
Food Porn:

Pork belly tostones topped with habanero honey glaze, nopale cactus curtido, and cotija cheese from Casa Del Barco
Head over to RVA Magazine's instagram @rvamag to check out more photos of local good eats.
To submit news, ideas, press releases, menus, or other restaurant news, please email Amy David at [email protected]. For advertising or sponsorship opportunities, please email John Reinhold at [email protected].