Last Thanksgiving RVA Magazine did this food and local craft beer pairings list for some stupid reason. I'm still wrapping my head around this heart attack in the making we put together, but it seems that people liked it, or at least got a kick out of it so we decided to bring it back just in time for Valentine's Day.
So for this Valentines day I was conned into doing it again so we can all suffer together and cry with a beer in hand crushing candy on this Valentines Day. I'm of course looking for local brews as well as current brews that fit really well for Valentine's Day – then picking some of the good and not so good candies that we see around Cupid's holiday to pair with them. So whether you're sharing happy tears with your loved one over gifts and wine or crying into your box of chocolates at least you'll have a nice craft beet to pair it with!
Try the pairing if you dare and let us know what you think. And remember, you have been warned that some of these aren't the best pairings, in fact, they're probably horrible, but it's all in good fun. Here we go…
Three Notch'd Brewery Collab, There will be Braggot V.3 with Be Mine Chocolate Frog by Lake Champlain
For those that don't know, a Braggot is an ancient drink that is basically mead made with both honey and barley. This one is a collab with Bill Cavender of Black Heath Meadery who makes some of the best meads I have ever had. Luckily, I had the chance to try this nice and high ABV (10%) Braggot recently and it's a real treat. If you're looking for something that's a little unusual, something that crosses the border of beer and mead this does the trick. It's juicy and rich, tasting like a tripel with honey nose making it nice for Valentine's. So we have this Be Mine Frog to pair with it, and it's fine chocolate – and pairs really well. But why is it judging me? The frog is looking deep into my soul the whole time I'm drinking this Braggot. Why is he upset? Why would someone make a "Be Mine Frog" that looks like he is pissed off? I'm thinking its more of a "Judging You " frog overall. Get it and put it out for your sweetie and see how they take it. In the end, you have this 10% Braggot if things go wrong.
The Veil Brewing Co., Hornswoggler with Oreos // with more Oreos
If you're lucky you can get your hands on one of these Hornswogglers from The Veil – you might have to trade for this one. However, they do have a special Valentines bottle release Tuesday that has two new DIPAs coming out and a beer that's basically a chocolate covered cherries Gose pin. But let's get back to this Hornswoggler, it's a nice rich and very drinkable milk stout that was conditioned on hundreds of pounds of Oreo cookies. don't even have to pair this one, it comes paired already in can. If I could find one, well then for Valentine's Day I'm going to just do what makes sense and dip some Oreos in this bad boy. Oh the goodness that will come from this. It's like my childhood but better and with more beer.
Triple Crossing, Double Falcon with Valentine Fun Dip Kit
Oh my god, this beer is rocking me right now. I'm totally in love with this beer. It's exactly what I want from a big fresh IPA, a juicy tropical flavor that tastes like you grew hops and fruits in heaven. Fun dip, you remember Fun Dip? Well they make this Valentines edition that looks interesting. I always had the problem of eating the damn stick to soon. Then I was left with just using my finger which would become dyed blue for the next few days. I do remember liking the tangy flavors – but I'm not so sure about this Valentine's one. Either way, the IPA is strong enough to wash this down easily – and they might even work well together.
Castleburg Brewery, "The Siege" with Valentine's Day M&M's
Valentine's Day just screams chocolate and fruits together, so we are lucky that this beer combines those for us. This is a milk stout with cacao nibs and raspberries, it's a brew with a mild bitterness that is reminiscent of dark chocolate. I'm pairing this one with classic Valentines day M&M's – so I know this pairing is going to be great and work well. But let's talk about these M&M's for a second. Am I correct in saying that all M&M's are the same? Like there is no difference in flavor correct? Because when I was younger I swore that the green ones tasted better. I know it's the placebo effect going on here, but I want proof! So I guess I'm going to start with the Valentines ones – and move on to regular M&M's – gonna need a lot of stout for this one. I will report back next time.
Garden Grove Brewing Company, Big Mama Brown Ale with Strawberry cream peeps
This collaboration is with RVA's Big Mama Shakes band, its a big bad Imperial Brown Ale that is malty and delicious. Nice background with the East Kent Golding hops to make this a classic brown with a big sweet finish. It's a very nice beer that pretty much anyone can enjoy and have a few of these even with its bigger 7.5% ABV. We need this bigger ABV and lots of this brown to help with what is about to go down — or try to go down. Well, I knew eventually it would happen, we would have to get these Strawberry heart peeps. Look peeps are not my thing. \I heard if you heat them it brings out the marsh mellow flavor, but I don't know if I can microwave these things. For the sake of argument let's say I would eat a few of these chalky massive sugar attacks – and wash it down with this rich beer. I'm giving myself about 30 minutes of pure anxiety and fear from this sugar overload before a real big crash that might include some tears and questioning of how I got here in my life. But sure, go ahead and buy these for your significant other and see if you can possibly offend them anymore. At least we got this Big Mama Brown to save the day.
Kindred Spirit Brewing, After Hours V.I.P. (Vanilla Imperial Porter) with Giant Hersey Kiss
This is a nice porter, and makes a good choice for any night by the fire or Valentines Day of course. The notes of Vanilla really shine through smoothing it out making it a very drinkable Imperial Porter. We picked up a Giant Hersey Valentine's day kiss to go with this one. I'm not sure that's a good decision overall – lets take a closer look. So this Giant Hersey kiss has 9 servings per giant kiss, each serving is 200 calories and 100 calories from fat. Has anyone actually finished one of these in one sitting? My god. I always see them like half eaten, then they look all nasty and kinda melted and I'm not sure you can save that for later. OR why would you? Truthfully though, these do fit nicely together with the milk chocolate and vanilla porter pairing rather well. Maybe its really meant to be shared, and that would much better for everyone.
Final Gravity, Irish Goodbye with Werther's Original Caramel Candy/strong>
A 2016 VCBS Silver Medal Winner, Final Gravity's Irish Goodbye is an incredibly smooth stout in the classic sense – its like a good Guinness pour with more depth to it. So the way I'm looking at this one is we go for Werther's caramel candies and start with that while doing the Irish Goodbye – kinda going for a car bomb flavor here. This should actually be pretty good if you can figure out the right amount of each. Update me if you try it, I think this could work.
Hardywood Park Craft Brewery, Ruse with Dark Chocolate with berries
Ruse is serious, a big imperial milk stout here that has aged in wine barrels with big notes of chocolate and molasses. Since it's wine barrels, we're going fancy. Let's pour it in some nice glasses, start a fire, and sip on it after we get these screaming children to bed. This is one you reach for in those moments – need something serious when all hell breaks loose. We can break out the dark berry chocolates which will pair perfectly with this boozy stout and let the night progress as needed.
The Answer Brewpub, Piece of the Action Tripel Dry Hopped with Necco Conversation Hearts
Piece of Action seems like a very appropriate IPA for Valentine's Day, it's an amazing IPA with tropical notes from this 100% mosaic bomb. And wow we need a Piece of the Action after buying all these candy hearts with the hope that they won't go straight down the toilet. Every year around this time the Valentine's candies comes out – you know the one, the hearts with all those super cheeky messages. But I have so many questions!! What flavors are these chalky sugar bombs? Does anyone ever eat these things? What's their half life? So a factory is actually dedicated to these things? But check it, I did find this useful article about what you can do with them other than attempt to eat them.
Legend Brewing Company, Utbier with Russell Stover Assorted Truffles (Heart Box)
Utebeir means the first beer of spring or first beer on a sunny day. In Richmond spring is a tricky thing. Because it goes Winter, Spring, Winter, Summer – then Winter again in the span of four days. Good thing we have this refreshing and very drinkable brew to get us through. But here is the problem: someone gave us this damn box of Russell Stover Truffles! I have no idea what flavors these things are, but we have to get through them. This is where the need for a full six-pack of Utbier is needed, maybe go for two six packs. They say 100% real chocolate but we know that's a big lie! It's chocolate glue dammit, I know chocolate glue when I try it. And GOD the white ones, look just skip them if you know whats good for you. Ugh I need a Utbier now just thinking about trying to get through this box.
Midnight Brewery, Rockville Red Irish Red Ale with Cinnamon Hearts
It's nice to include a malty flavorful Irish Red on this list. This one is full of roasty flavors of caramel and light earth hops to round it out. It's a good thing too, because we are going to need it. These freaking Cinnamon Hearts don't even really look like hearts. More like cinnamon blobs that are hard as a rock. Okay, so like one in every few looks like a heart the rest are questionable. Now why is cinnamon candy hot? And why does it not taste like cinnamon? These are my first issues with this candy. I'm not sure that the beer taste can even overpower these things. Wait, and my tongue and teeth just went red. Nope, not having this. Irish Red for win, heart blobs go in the trash.
Ardent Craft Ales, Roggenbier – German Rye Ale with Giant Turtles Cluster
Honestly I had to pick this beer just for name alone – Roggenbier. Seems like this makes for one hell of a good Valentine's night brew. his is a rye-based brew unfiltered with spicy rye bread background with toasted malts and caramel sweetness on finish. It's delicate you know which is why I'm pairing this with a Giant Turtle Cluster. So, this cluster is a mess, it's all kinds of too much. On top of that, they are expensive like $10 for 5 of these things – for real. Look I'm sure they are actually pretty good if they are fresh – but that's just not my experience with them. I'm trying hard here to actually find candy I like. I'm not trying to be a downer on all of these candies- I just can't lie. I can't finish one before I need a nap. And it takes quite a bit of Roggenbier to down this thing. So maybe if we reverse engineered this? Roggenbier flavored on these things might actually be much better for me.
Strangeways Brewing, Albino Monkey with chocolate covered strawberries
This one is for the special lady or man in your life. Albino Monkey is a beer from Strangeways you can drink anytime. It's a great starter beer for people looking to try craft beer – and just kinda ease them in with this yummy Belgian wheat beer. It's got a wee bit of spice to the finish with nice hop background. Easy right, good for Valentines. So let's continue on this easy to please journey and get some chocolate covered strawberries. This is a winning combo! I had to give you something on this list that is super easy for your sweetie. The strawberry and chocolate finished off with the light spice of this fun monkey will please for sure. Throw in some monkey sounds and get some strange looks – or maybe some real good looks. Where to go from here is up to you, but I think we are on the right path.
Steam Bell Beer Works, Harwood Porter Mint Variant with Andes Mints
Luckily I have hit my stride it seems and we are finding some gems here. This Steam Bell Porter variant will really hit the spot with those that love mint flavors. Count me in this crowd of people who love mint and chocolate – girl scout cookie tasting brews and chocolates galore. I think it only makes sense we bring out Andes Mints for this one. I could unfortunately down a full box of these things. I have to be careful here, lets take it slow and have a few. Then this wonderful porter, then a few more. Repeat.
Lickinghole Creek Craft Brewery, Bourbon Barrel Obsession blueberry variant with Brookside Acai & Blueberry flavored Dark Chocolate
I do have a thing for Bourbon Barreled beers overall, so this blueberry variant is going to be right up my alley. Chocolate Obsession is already very dank, so the bourbon and blueberry should really give a perfect depth and fruity background. You know most of the candies in this article are ones that I'm picking on or making fun of overall. But, for this pairing I'm going for Brookside Acai & Blueberry flavored chocolate – and they are really freaking good. The chocolates are dark and fruity and the beer complements these chocolates perfectly. I guess the only issue is stopping. I don't know if I can stop, by the end I'm going to go through this whole bag and feel horrible about it. But its Valentine's Day and I think I'm allowed at least this one thing right?
Isley Brewing, Choosy Mother Peanut Butter Porter with Reese's Heart
I just had to choose (PUN!) this popular Isley brew for Valentine's Day. If you like peanut butter and beer this one is for you. I wanted to make sure and include something with peanut butter as its such a classic treat. I have been known to love peanut butter cups – I mean it's probably one of my favorite candies of all time. Luckily, Reese's has special versions for holidays and they are all really good. Valentine's Day has the Reese's Hearts that are perfect for lovers of the cups. The beer and this heart go very well together of course. The brew is refreshing enough to work after having the thick Reese's cup and washes it down pretty well. It's quite filling overall and so its one of those things that's a nice treat for a cold night in with your main squeeze.
Stone Brewing, Mint Coffee Milk Stout with York Peppermint Patties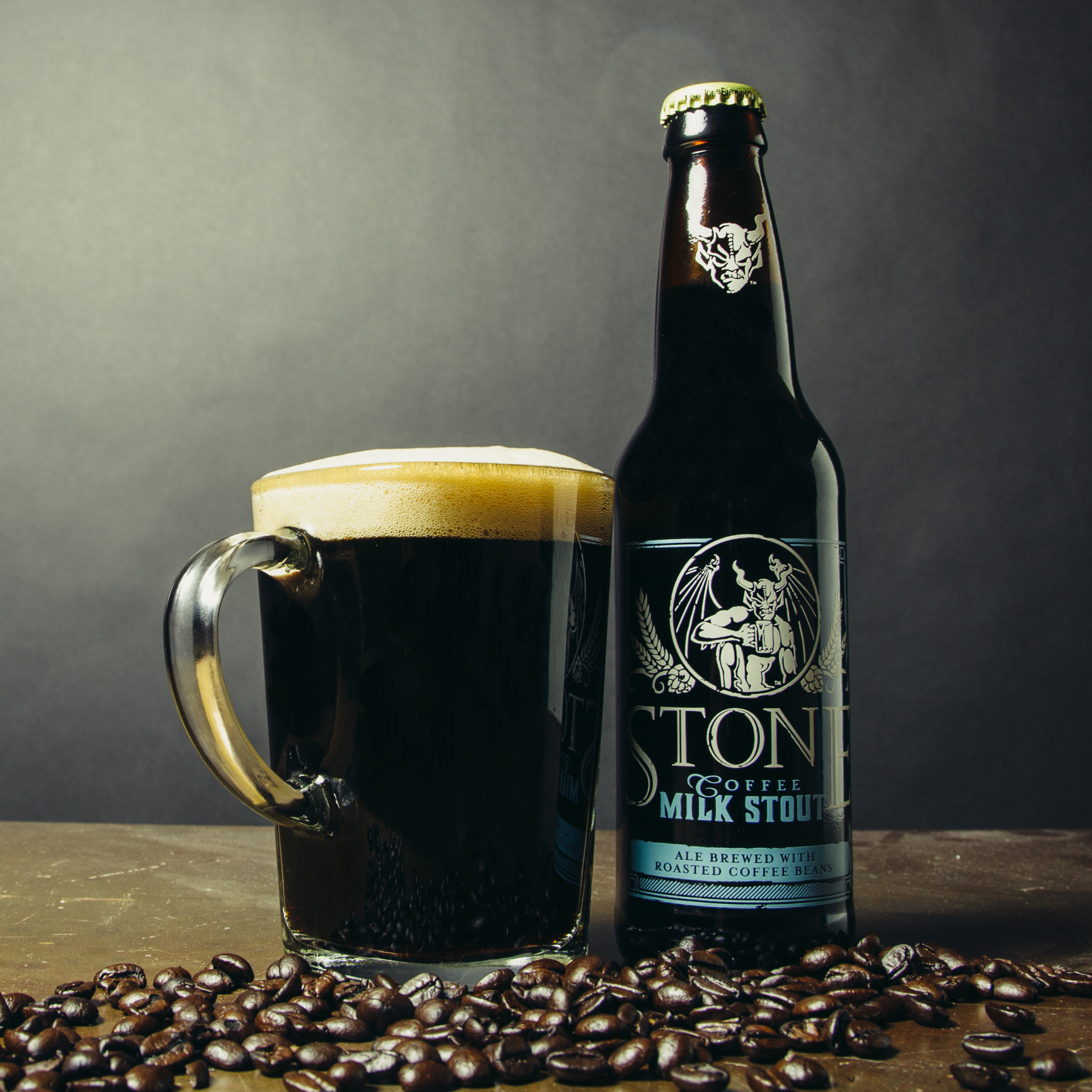 Pouring fresh at Stone in RVA now is this nice Mint Milk Stout. Excited to get some more mint into the mix here, and this time its with a bit of coffee to go with. Sounds like a winning combo to me! Very much like what you know from Stone's other stouts its rich and creamy with hints of coffee and a bit of a mint bitterness on the finish. For Valentine's day, York Peppermint Pattie candies offers their usual treat – but heart-shaped. I tend to be able to stand about one York candy each time. It's not something that I can do a lot of because they are damn strong right. It's like a kick in your teeth strong peppermint. I do think this is a winning combo however, and a perfect after dinner treat on the romantic evening.
Center of the Universe, Orange is the New Stout with Orange Chocolate ball
Chocolate covered stout orange dreamsicle? Why yes I will take that thank you. If you're into orange flavored things then this lovely brew is for you. And honestly I just want to keep it simple and go with the Orange chocolate ball slices. They are a yummy chocolate on their own, and fun to break apart like a real orange. Let's combine that with this orange stout and we get a nice pairing especially for orange lovers.
Words by John Reinhold