Screaming Females, The Two Funerals, Body Cop and Little Master
August 16 at Gallery 5
Monday evening at Gallery 5 felt like a celebration. All the bands on the bill were wonderful. It's a great feeling to have a new favorite song embedded in your head and a new sense of rediscovered inspiration in your step. After the show was done, I couldn't stop talking about all of the bands that played. One thought that came to mind was the role of women in rock bands and the progression made over the years. Each band that played last night featured a female musician that had an integral role in the band beyond vocal duties. Whether it was Leah Clancy playing bass for Little Master or the front-women of DC's Body Cop, The Two Funerals and Screaming Females, there is a changing dynamic at play here.

Screaming Females, The Two Funerals, Body Cop and Little Master
August 16 at Gallery 5
Monday evening at Gallery 5 felt like a celebration. All the bands on the bill were wonderful. It's a great feeling to have a new favorite song embedded in your head and a new sense of rediscovered inspiration in your step. After the show was done, I couldn't stop talking about all of the bands that played. One thought that came to mind was the role of women in rock bands and the progression made over the years. Each band that played last night featured a female musician that had an integral role in the band beyond vocal duties. Whether it was Leah Clancy playing bass for Little Master or the front-women of DC's Body Cop, The Two Funerals and Screaming Females, there is a changing dynamic at play here. I am quite enthused about the recent wave of female-fronted groups that have incredibly talented instrument players at the helm. Whether it's Bridge & Tunnel or Thao With The Get Down Stay Down or Feist, there is a trend emerging here that I hope continues to be fueled by the enthusiasm of music scenes across the country.
Little Master reminded me of Husker Du and other Midwestern punk favorites. This sat very well with me throughout their set, which featured the musings of frontman Tim Morris and the recent addition of Wolfgang Daniel on second guitar. Their guitar interplay was a delight to witness. The band was able to keep things simple while spicing up their tunes with a tremendous level of intricate guitar parts shared by the two. I think this group has the potential to turn a few heads in the city.
It would be understatement to say that Washington DC's Body Cop stood out from the rest of the lineup. With a live setup designed to truly engage its listeners, their short three-song set was a nice departure. The band's energy was a strong point of the set. Although the set ended abruptly due to a member of the group sustaining a terrible injury, the audience seemed to really dig Body Cop. I imagine if they haven't already, they could begin calling Richmond a new home away from home.
I have no good excuse for why it has taken me so long to see The Two Funerals. This was the perfect crowd for the band and there were grins across the room. The core of the group relies heavily on their three-piece structure and has a wonderful penchant for writing up tempo punk tunes that incorporate strong, catchy melodies. I see that The Two Funerals will be playing fairly frequently in Richmond for the next couple months. If you haven't already, this is a band to become familiar with.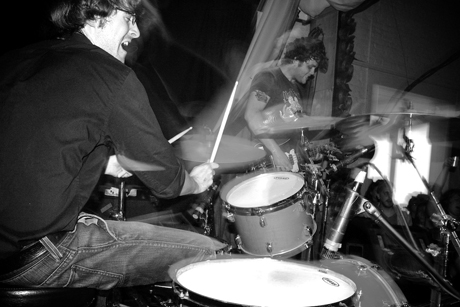 Screaming Females is the band I want to play the soundtrack to my dreams and ambitions. They played their songs with such a vigor and passion that it was truly inspiring. Marissa Paternoster easily has one of the best unassuming stage presences ever. Her talent for guitar parts is incredible and impressive. It's hard to apply words to a band that I fell head over heels for within moments of hearing the first song of their set. I hope I'm not the first one to tell you all this, but Screaming Females are absolutely awesome. The best thing I could ever wish for is that we all have our own Screaming Females story about the first time we encountered them (whether that was at Tinderbox back in the day or Monday night at Gallery 5).
As I rode my bike home with a copy of their soon-to-be released record Castle Talk in my messenger bag, I was gushing about what a great show I was able to check out. It may be a scarce, seldom experienced feeling, but to achieve and maintain that feeling after the fact is what makes the wait for these kinds of shows worth it.