Get ready for an adrenaline-pumping showdown as teams from RVA (Richmond, Virginia) and DC (Washington, D.C.) lock horns in an electrifying competition for the highly sought-after CBRX Cup. The adventure unfolds on May 27th, when four pairs from each city embark on a journey filled with riveting challenges and opportunities to amass points.
Each team consists of two tenacious participants ready to prove their mettle. Throughout the competition, they will tackle a series of grueling challenges that will test their physical prowess, mental acuity, and teamwork. Along the way, they will not only strive to outperform each other but also build a score that could earn them the esteemed CBRX Cup.
But the CBRX Cup is not just about winning; it's an expedition of self-discovery and camaraderie. The participants will experience life-altering moments and forge bonds that could last a lifetime. As they work through each challenge, they will create stories that will become a part of their legacy.
To celebrate the culmination of this awe-inspiring journey, the teams will have the unique opportunity to showcase their adventure through a film. This movie will be a compilation of their struggles, triumphs, and the bonds they created along the way. The grand finale of the event will be an elaborate premiere party, where the movie will be aired. This will be an evening of reflection, celebration, and camaraderie as the teams relive their epic adventure on the big screen.
Mark your calendars for May 27th and be a part of this sensational event. Whether you are participating or cheering from the sidelines, the quest for the CBRX Cup promises to be an experience to remember.
To give you an idea of what you are going to be doing before you sign up read through Brandon Peck's CBR experience from a few years ago or check out the complete video here. This article ran in RVA Vol. 2 Issue 3, May 2007.

——————>
CBR7 Tales From The Road by Brandon Peck
CBR is a scavenger hunt. CBR is a road trip. CBR is a mystery.
I heard CBR described as being a week long, but there are no days and it feels like a month. I couldn't have summed it up better myself. In the week I spent with a few friends and a load of strangers, I saw places I'd never seen before, done things I had never done before, and learned a lot about myself. In the days following the trip, I found myself lost, unmotivated, and longing for the companionship of everyone that spent a week with me on the other side of the country.
What follows is a first hand account from someone who spent each passing day just trying to keep up with clues, hangovers and long drives. Long live CBR!
Cast of Characters
The Teams:
Live 'Til You Die
Jeremy Wilson
Thomas Hanna
Justin Adly
Brandon Peck
GFS
Chris "Bainesworth" Baines
Michael Ramey
Big Whoop (aka Big Wimp)
Caitlin Webster
Zoe Webster
Anica Jasper
Motherboy
Ashby Zehmer
Ashly Hutchens
CBR Jerks aka "The Production Crew"
John "Yambag" Yamashita – Asian Joe Rogan / bad directions and spelling
Jason Henry – quiet and cunning
John Martin – Vegas affiliate / soul (patch) man / cat noises
Lander Salzberg – the person you should talk to if you like getting "I don't know" as an answer
Sara Hedgecoth – high pitched yelling / Jet Ski professional
Tony Harris – RVA magazine on a free trip / fill-in team member
Jesse Clark – camera guy / resident beard instructor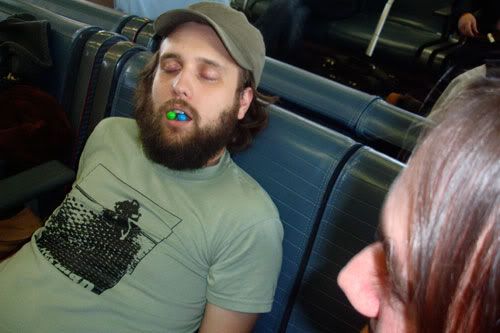 Monday, April 23rd – Richmond, Virginia
CBR was finally underway. Thomas, Justin and I packed into Jeremy's car and we met up with the other teams and some of the organizers at Richard's Rendezvous, a strip club on Broad Street. This marked my first time ever setting foot inside a strip club, and I had a bit of trouble processing everything. Jeremy plopped down in front of the stripper, leaving a five-dollar bill, while I choked down a beer and tried to look like I wasn't feeling awkward. The time came to meet up with the organizers, turn in the money we had raised, and to sign some waivers. We were given a scavenger hunt list and told to meet at Cous Cous in four hours.
We had another beer and hit the road, stopping at stores in the area trying to find any and all of the things on the list. I was dropped off at home, while Jeremy and Justin plundered the city (and Sticky Rice) for the needed articles. I packed up my bags, grabbed a few of the things on the list (a leaf, a pay stub, and some other random things), and grabbed a ride to meet everyone.
Much to our displeasure, it was revealed that not only was the list a joke, but each team could only pack one bag to check, and one carry-on. Back to Justin's we went, pool noodle and all, to combine our belongings and discard the stuff we could do without. We managed to borrow a big suitcase and found someone to drive us to the airport at 4am, and then decided to get drunk and play video games. 3:30 am rolled around and our escort drove us to the airport.
Upon arriving, an empty airport greeted us, but the silence only lasted a short while as GFS and Motherboy shuffled in behind us, and soon we were all being regaled by a drunken Ashby who had been cussed out by a floor sweeper in the bathroom. Eventually the girls in Big Whoop arrived, and soon after, Lander and Sara. We were given our boarding passes, checked our one bag and trudged to our gate. Already geared up to party, when first call happened, my team and both of the guys in GFS headed to the local watering hole, Samuel Adams, where our bartender Bobbie Jo fed us beer after beer and shot after shot. Just in time for our plane to begin boarding, Justin let loose his stomach and vomited all over the floor of the bar. One t-shirt down, and pool noodle in hand, Justin and the rest of us hopped on our flight to Chicago, heading on to Las Vegas.
Tuesday, April 24th – Las Vegas, Nevada
Thanks to a 3 hour difference, our plane landed just shy of noon, and I found myself less surprised than I should have been when I walked out of our gate to find dozens of slot machines, and dozens of people playing them. We opened our first clue, a picture of John Martin with a note that said, "An autograph is worth a thousand words," or something like that. While we waited for our checked luggage, Justin went to smoke a cigarette and was approached by a douche bag with Rod Stewart-esque hair, who he quickly realized was actually John Martin in disguise. Given a CD, an extra credit scavenger hunt list, and the hint to go to National car rentals, we shook the sleep from our eyes and hopped on a bus, managing to beat everyone to the car rental terminal, but in the process Jeremy forgot his backpack on the bus.
John Yamashita and Jason Henry greeted us, and after about 20 minutes all the teams had arrived. Jeremy had reclaimed his backpack and Motherboy had realized that their video camera was broken. We all headed to the garage and found our cars, ours being a white Pontiac Vibe. Once inside, we had the CD in the stereo and were informed that we would be on our own for the next 6 hours for a separate Vegas scavenger hunt. Spotting an information building we stopped inside and met a nice girl who gave us the names of all the casinos that housed the items on our list and we took some pictures of wax statues of Whoopie Goldberg and the Governator.
Several casinos and photos later, we were standing inside the MGM attempting to take a picture of ourselves in the Rainforest Café, when a couple offered to take our picture. Then they dropped Thomas's camera destroying all the evidence that we'd completed anything on the list. In a huff we decided to retrace our steps, and take the pictures over again with my camera when it was discovered that my camera was beginning to erase pictures at random, so Jeremy's camera became the only one left.
We'd knocked off quite a few more things on the list (including a last minute addition, a red gumball) by the time it came to meet up with everyone. No one actually seemed to know where the address we were given was, so John Martin gave us some new directions and we finally arrived at his house.
Greeted by a keg and a bunch of food, most of us forgot about the fact that we hadn't really slept, we began taking shots. It was only a short while before news came that we were going out, and before we knew it there was a stretch Hummer limo sitting outside with techno blasting from within.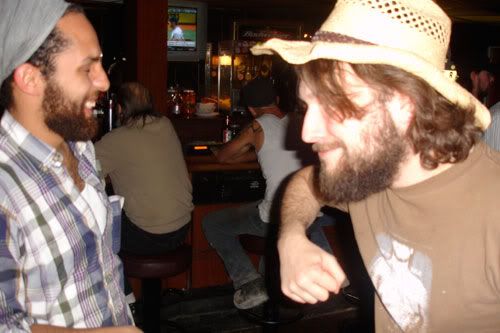 All of us hopped in, fully recognizing the ridiculous nature of the situation at hand, and I bugged the driver to please "throw some D's on that bitch." It seemed like only 10 minutes or so before we ended up at Dino's, a shitty little bar with a nasty bartender, some pool tables and a cover band that alternated between covers of bad radio hits, and classic punk tunes like "Brohymn" by Pennywise and a few Rancid and Operation Ivy covers. It was only a matter of time before I was drunk enough to get up on stage and sing along with the band, and later front the band as we blasted through a Journey song, effectively crossing two things off of our list. I tried to show one of the guys from the band our new handshake, and climbed a bus shelter and we moved to another bar where a bummed out bartender spent about half an hour watching us make asses of ourselves on a stripper pole and put Sticky Rice stickers all over his bar. I harassed some people at a drive through, climbed a tree, and somehow got back to John Martin's.
There, all of the team members were interviewed individually and Jeremy was pushed into the pool. I had a few more beers and was generally loud, and then I passed out in my sleeping bag amongst a sea of other people who'd realized sleep would be a good idea.
Wednesday, April 25th – Las Vegas, Nevada
As usual, I was the last to wake up, despite people being loud and stepping over my body. I felt like shit, which wasn't too weird considering I'd had enough drinks the night before to black out parts of it. We were told to go to the grocery store and buy food to make breakfast for the production crew. Assholes.
I was told I looked homeless, but I was too busy shopping for breakfast burrito supplies with Chris Bainesworth to get a good look at myself, instead opting for Chris' take on my appearance. Ashby rolled a shopping cart into a sun block stand and a bunch of people started staring at us. My teammates were already thinking ahead as they bought a bunch of sandwich supplies and a cooler.
Back at the house, John and I filmed an "MTV Cribs" where I showed the camera around my place, showed off all the stuff I bought at dollar stores, and introduced all of my gay friends, including Bainesworth who delivered my burrito to me with his shirt pulled up through the collar. We all relaxed for a bit watching some of the footage from the previous night (and filling in some of the blurry spots in my memory), when all of a sudden we were informed that there was a clue in the pool and everyone went sprinting from the house and into the pool.
The clue read "Between a rock and a hard place" and there was a red chili pepper inside. In our infinite wisdom, we immediately thought it had to be rock climbing, and while Justin dried off the stuff he had in his pockets when he jumped in the pool, Thomas looked online for rock climbing places in the area. Completely ignoring the words "hard" and "rock" and the red-hot chili pepper, we deduced that the red pepper and the red gumball had to point to Red Rock Climbing Center, a spot nearly 30 minutes away. It wasn't until we got there that we realized we'd made a mistake.
When we got to the Hard Rock Café, and found our way to the bar with all of Red Hot Chili Pepper's costumes on the wall, we were about an hour late. Shortly thereafter, a van pulled up and we were introduced to our new friend whose name I forgot, and quickly replaced with "Creep." We were going Land Sailing, and we were going to California to do it. On the way to the dried up lakebed that would be the site of our adventure, Creep farted and we all were gagging… except Ashby. He was talking about how he had been acting gay his whole life, but isn't, in fact, gay.
Land Sailing is like having a sailboat with wheels. The wind wasn't blowing when we first started, and no one was very impressed, but once the wind began blowing we had some races and were really flying. Throughout the several hours we spent under the sun, Creep made inappropriate jokes about minorities to Ashly, joked that buckling in pretty girls was one of the perks of the job to Anica, and spent about 10 minutes sitting in the two-person "blo-cart" with his arm around Zoe. On the way back, Creep asked to not have Ashby in the car, which was due to the fact that Ashby decided to freak him out by hitting on him throughout the day. On the drive back, he was creepy, and kept looking at Anica's legs while driving, at least until she started chanting "Are we there yet" over and over again while grabbing her crotch and slapping her chest. When he dropped us off, it was only a split second between the door closing and his van peeling out of the parking lot. I think it was at this point that I realized that as a group, we were all going to give a lot of people a pretty big culture shock.
I took a shower to clean the dust off of my body, and when I got out, I realized I wasn't feeling too hot. I chalked it up to heat exhaustion and lack of sleep and tried to not pay it any mind as I choked down some pizza and beer. Then we found out we were having a little event in the back yard. Joy.
The premise of this event was much like Piko, except the host didn't suck as much. We were all asked a question worth 50 points, and if you didn't get it right you had to do a challenge, and if you didn't do a challenge your team would lose 200 points. Upon answering incorrectly, Ashby, a vegetarian, had to eat pork rinds doused in spicy peppers, Thomas wore a meat mask, Jeremy had to dip his face in a spicy vomit-like water and pick up eggs, Justin ate a boiled intestine, Caitlin ate dried fish, and Anica took a dive down a Slip n' Slide covered in oil, vinegar and "mudfish". Mudfish is the foulest smelling thing I have ever smelled, and it stuck with us for several days.
My stomach didn't like the beer I was drinking so I slowed down a bit, and before we knew it, we were told the night wasn't over yet. The stretch Hummer showed up again, and we went for a short bar hop, much to my stomach's displeasure. After a lot of dancing, loud music blaring in my ear, and people trying to crowd surf in the car, we arrived back at John Martin's house where we were told we'd be camping out. In the back yard. With the mudfish stench. While I was setting up Jeremy's tent, (one that could fit two small children, not our four person team), he arrived and promptly fell to the ground and passed out face-down in the dirt. After being awakened and moved time after time, he climbed into his tent with my pillow and went to sleep. I helped Michael and Chris set up their tent (one big enough to fit 4 of ours in) and quickly fell asleep in it.
Thursday, April 26th – Las Vegas, Nevada
I woke up several times to nausea and a sore throat. Great, I'm getting sick and it's only been two days. We packed everything up, showered and were finally let out to our cars where we found a picture of Luke Skywalker. On the back were a crappy hand drawn map and a note that said something like "the chosen one will cross the bridge of destony [sic]." Hmm, I wonder who made this clue?
A quick check of our freshly stolen road atlas showed us the way and we were headed to the Grand Canyon, presumably to cross the newly finished Skywalk. I ate a sandwich against my better judgment, and passed out. A little while after crossing the Hoover Dam, we pulled off at a scenic overlook and I threw up my sandwich. I slept a little while longer, and then took over driving until we reached the welcome center at the Grand Canyon. A call from Lander told us that we should meet everyone at the Skywalk, but the problem was the Skywalk was 4 and a half hours away from the entrance we were at. Told to wait for the rest of the teams to show up, which would take another hour or more, we decided to go see the Grand Canyon.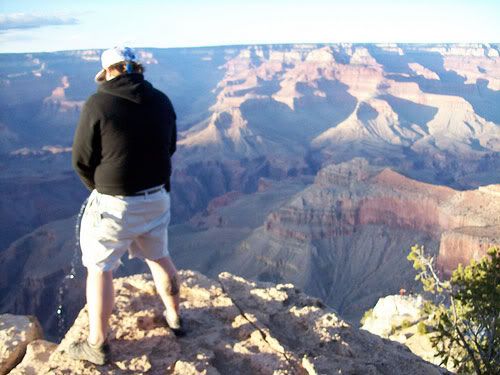 The Grand Canyon is something that everyone has seen pictures of. It's pretty, it's big, and it looks like a cool place to visit. There is one thing a picture will never tell you about the Grand Canyon, and it's the fact that the first time you look out on it, you can't believe your eyes. We left the beaten path and climbed down to an area that extended out further than any of the viewing areas and took it all in. It was one of the more surreal moments of my life.
We headed back to the meeting point to catch up with everyone and figure out what we were doing in light of the bum directions we'd been given. We decided to head back to the Grand Canyon so everyone could see it but in the process lost the girls in Big Whoop, and once we got to our spot, ended up losing Ashby, too. Team Live 'Til You GFS Mother was born. Plus Tony.
When the sun went down, we headed back to our meeting point, and we made a conga line of cars as Lander guided us to our next destination, Flagstaff, Arizona. On the way we passed a sign letting us know we were leaving Yavapai County, which according to Justin is ancient Navajese for "You have a pie." We were staying in a hostel that night, and I was just about spent. I slept most of the way there. We went out for dinner at a nearby restaurant where I had some meatloaf that eventually, in combination with my angry stomach, made a diabolic concoction that would eventually get me kicked out of our room for making it smell too bad. I tried to drink again, but it wasn't happening, so after some foosball and other tomfoolery, I hit the sack.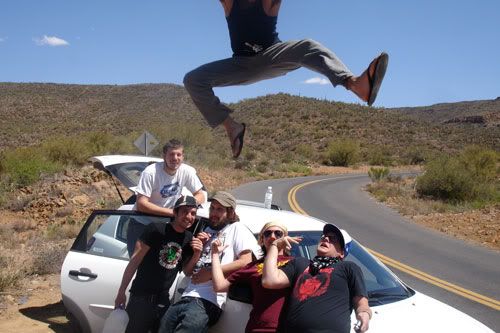 Friday, April 27th – Flagstaff, Arizona
I woke up with a new lease on life. I felt great, so I grabbed some breakfast and packed up my belongings. Meanwhile a new clue was given, this time a bottle of ranch dressing with a bumblebee on the label. Someone figured out that there was a place in Arizona called Bumble Bee and there was a ranch in that town. Easy enough.
We hit the road, and Justin was breaking every traffic law he could, amongst them, driving 120 miles per hour and passing people on the shoulder. We stopped at a scenic overlook again, and Justin had a beer and we got back to the road. A few hours passed and we found our exit, switching from highways to dirt roads, and forests to red rock deserts. We came upon GFS and Tony hanging out with a cactus. After we took a few pictures, both cars headed down the road to find out where we were going.
Bumble Bee is a town that hosts about 17 people, almost all of whom work on the Bumble Bee Ranch. In the few hours before dinner, we set up camp, shot guns and rode some horses into the desert, sidestepping cacti of all shapes, sizes and colors. It was incredible. Dinner was a huge steak, baked beans, salad and corn, and all of it was so good. I maintain that the steak I ate was the best I'd ever had.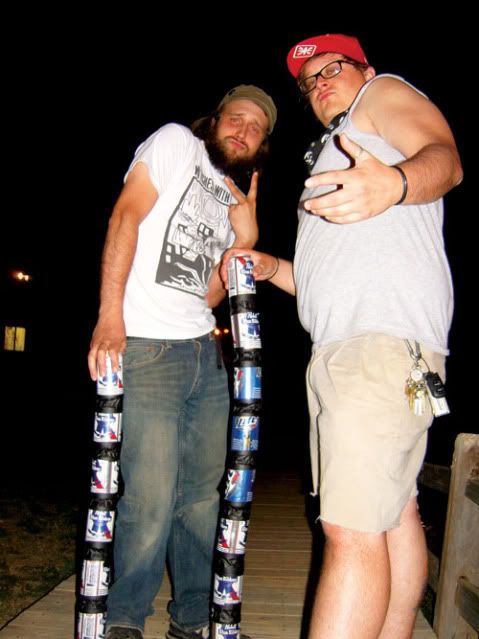 Bainesworth introduced the rest of us to a drinking game called "Wizard Staff" in which you tape your empty beer cans to the bottom of your newly opened one, and almost everyone was quick to follow suit. I was convinced that I was going to win, but realized I didn't have it in me when I eventually saw that Michael had not only drank enough beers to make his wizard staff taller than he was, but had simultaneously given up his sense of balance. Zoe had discovered her talent in lasso, and impressed the guys on the ranch so much that they gave her one, which she used to lasso my head a number of times. After the production crew had interviewed every one of the team members, a drunken Ashby began spilling his guts to John about some private matters between he and Ashly, his teammate. When word got back to her, there was huge screaming match, and she told him their friendship was over. At some point in the night Jeremy decided to go camping by himself, and to do so without telling anyone where he was going.
When Zoe and I realized he was gone, we began looking for him and were harassed by Jesse who was hiding in the woods trying to scare us, and we eventually came across Ashby who'd passed out in a chair and would not be moved. When word got out to everyone that Jeremy was gone, the whole camp turned into a search party. Tony and I took to a hill nearby with flashlights, and he began screwing with me by tossing rocks into the dark and then pretending he hadn't heard anything. I was livid and wanted to kill Jeremy, and the thought of him in the dark tossing rocks at us pissed me off and made me terrified at the same time. Ashby, newly revived, tried a number of ways to find our missing friend that included telling me that everyone hated him, meditating for the safe return of Jeremy, turning all of the car alarms on at the same time, and my personal favorite, getting on his back with his arms and legs pointed to the sky and screaming Jeremy's name as loud as he could.
Kelly, the pregnant operator of the farm was awakened; as was her husband and they helped look around for him. We were about to give up when John Martin remembered having seen a wizard staff out in a field, and when we found it, Bainesworth confirmed that it was Jeremy's. Kelly found us, and told us to take a rest and we'd find him in the morning, when the sun was out and we could see. We headed back to camp. I had a s'more and crashed in our tiny tent. Sadly, none of the video cameras were rolling through the whole debacle.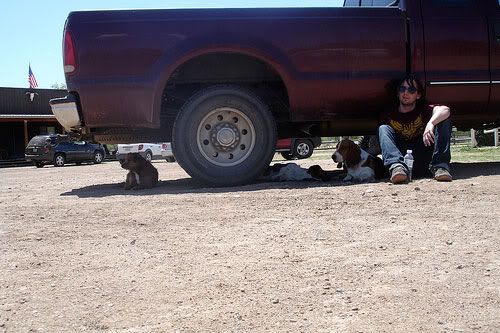 Saturday, April 28th – Bumble Bee, Arizona
I woke up pissed off and hung over. Not to mention I was now sharing a small kiddie tent with Justin, who'd left the door open for the breeze, which also let ants into the tent. And they were crawling on my face.
I headed down to breakfast where Jeremy had returned from sleeping on a mountain, apparently surprised at the reaction to his absence. I couldn't even look at him I was still so mad. Jesse said he wished Jeremy would stop smiling so much, and Tony expressed that he wished Jeremy had at least been maimed by something while he was gone. Eventually we all got over it, and headed over to the bullpen where we had our last event on the ranch.
We were going to have a foot rodeo. All the bulls had a color spray-painted on their butts, and when Kelly would blow the whistle, one team would try to round up 3 bulls bearing the color she had picked. We won, but not before Justin and Ashby had thrown up from the heat and running.
Kelly gave us the clue "The Fawkes will lead you there,",which according to some Harry Potter fans on the trip was the name of someone's phoenix. So we were headed to Phoenix, just a short trip from Bumble Bee. As a punishment, Jeremy was made to ride in the car with Ashby and Ashly who were no longer talking, and we got to have Jesse in the car with us. Once we'd gotten to Phoenix, we had no idea where we were going, so after spotting a Best Buy we stopped so I could buy an FM transmitter for my iPod, and end the soundtrack of crappy radio stations we'd been forced to endure thus far. In light of not having a destination, Thomas got a shave and haircut; we ate some Mexican food, reclaimed our teammate, and tried to check a few things off the list.
We eventually got a text message that read, "the 8th president says sleep for cheap," and a call to Auburn University's question line told me that Martin Van Buren was that president. Once we found Van Buren Avenue, we kept our eyes peeled for a motel that said something about being cheap. It ended up being a Budget motel.
In our room the TV was on, set to static. No one seemed to really notice and it wasn't until someone asked if we'd seen the clue that anyone took note of it. When we turned off the TV, we saw "It's not the heat, It's the humidity" written on the glass. It looked like something else was written above it, and thinking the production crew had started getting clever, I heated up some water hoping steam would tell me what was written there. That was when Ashly and the GFS guys came in and admitted to having wiped off the TV. Apparently the rest of the clue said something about going to Sticky Rice and getting tots and a PBR and telling the bartender what was still written on our TV set. The bartenders apparently told Ashly's friend to be at the Brickhouse at 7. We had some time to kill so Justin took a nap and Jeremy and Thomas went to get Sticky Rice and Cous Cous tattoos after being inspired by Michael's new ink.
We eventually found out that the Brickhouse was a venue in town, and Against Me! was playing. We showed up to the show in time to catch one of the crappy opening bands, and then another opener that was less bad, and finally Against Me! We were all given video cameras and told to go videotape their set. Michael got on stage and sang a song with them, and I made Zoe crowd surf against her will. I spent most of the time putting Sticky Rice stickers on anything I could think of, while the rest of my team thrashed about in the sweaty mosh pit.
When the show was over we walked back to the motel after a few drinks. Justin gave Anica a ride on his back while Michael and I dropped handfuls of gravel down the back of her pants. When she finally got tired of it, she dropped her pants and shook the rocks out, and hobbled the last block and a half with her pants down. Sadly, again there was no video camera present.
A few people went to sleep and the rest of us got some beer. I hung out in the girl's room, listening to Anica talk about zodiac signs and drinking. When Anica fell asleep I was finally drunk enough to tea bag someone, and my testicles found a nice resting place on her cheek. I was feeling rather reckless already so we headed upstairs to find the rest of the production crew. John Yamashita was asleep and sprawled out on a bed, so I tea-bagged him also, and left him with crackers over his eyes. Michael, Ashly, Justin and I went out onto the balcony and drank Jack Daniels and Natural Light, and pretty soon all of us were ready for bed.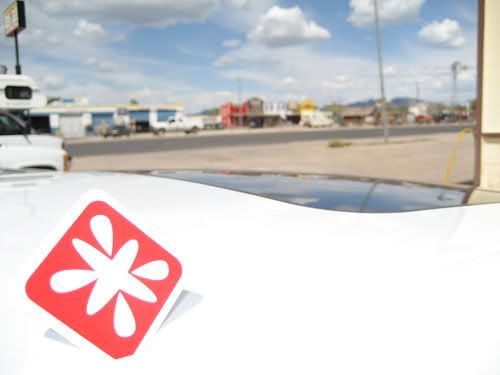 Sunday, April 29th – Phoenix, Arizona
We'd gotten a clue the night before, a box of Bagel Bites with a note that had a phone number on it, telling us to prepare to wake up early. The phone number went to voicemail and it was the chorus of the Fergie song repeating, "How come every time you come around, my London London Bridge wanna go down…" A little research in the morning revealed that Lake Havasu City, Arizona is the current home of the original London Bridge, so we got our stuff packed (except my cell phone charger) and hit the road again.
Several uneventful hours on the road later we arrived in Lake Havasu City, when Justin informed the rest of us that Havasu is ancient Navajese for "Where the fuck is Sue?" On the way in we were treated to two cars with remote hydraulics and all marveled at a truck that was less than an inch off of the ground. After making a wrong turn we ended up stumbling upon the campsite we were staying at, and most of the production crew was already there.
We grabbed some burritos to kill some time before all the teams got there, and once everyone had arrived we headed back to the campsite, and found out we would be going out on a boat and a jet ski. Sara and I found our true calling in jumping the wakes off of tour boats, and then started drinking. We were camping on the beach tonight, so once we'd grabbed dinner a few people collected sticks for a fire.
We'd all had a lot to drink when we were informed that we'd be having a songwriting competition, so I retired to the bathrooms to finish fleshing out a joke song I'd started in Vegas. GFS ended up winning, and for good reason, their song was great. Big Whoop took 3rd for a rap they wrote in which they talked trash on all the teams, and Motherboy's song was Ashby doing a cover song with slightly changed lyrics while Ashly looked generally bothered. In the post competition interviews, my team was too inebriated to answer any questions with complete sentences, and while GFS was being interviewed I climbed on top of a dune buggy and sang "This is why I'm hot" until the beach douche bags turned off their stereo. Tired of them I sauntered into the background of GFS's interview without pants on, wearing a wig, and still singing the same song. Michael tried to tackle me, but I was too quick and he ate shit in the sand.
During Big Whoop's interview, the GFS boys and I snuck in completely naked and I proceeded to give lap dances and grind on some grossed out girls. This is all according to witnesses, as I had consumed a little too much to drink and managed to black out a good portion of the night. Our next clue was given to us, a banana with "Stay classy. Reed St. 8am wake up" written on it. I smashed a guitar in the fire and passed out on top of a car.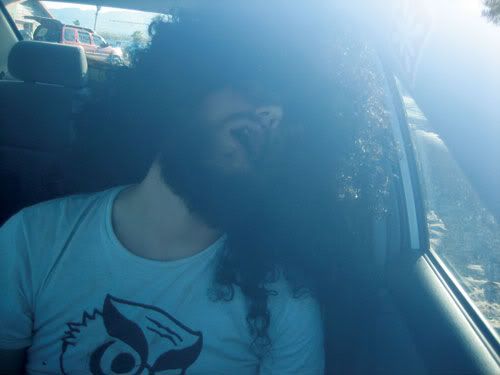 Monday April 30th – Lake Havasu City, Arizona
I woke up still wearing the wig, inside the car I'd fallen asleep on top of, which was even weirder because the keys to it had been stolen the night before, and now I was being accosted with blame. I watched everyone pack up the camp and had a beer, and we stopped by a Shoney's before heading to our next destination, San Diego, California.
I slept off my fierce hangover, and took over driving about 200 miles outside of San Diego. My body was so sore everywhere from riding the waves the day before, it hurt to move. The scenery was amazing, from the desert to huge mountains that looked like piles of rocks; to enormous sand dunes, to the forests of Indian reservations. We finally arrived, still clueless as to where Reed Street was or how to get there. A quick stop at an info center told us we weren't far off, and by the time we found Banana Bungalow, we finally realized that the clue made even more sense.
Everyone showered up, and Jeremy, Zoe, Anica and I went to get burritos. Ashly, Ashby and Sara were just rolling into town almost 2 hours after everyone else, and apparently Sara had finally gotten sick of Ashby's reckless driving and bad directions and had take over. Ashly and Caitlin showed up after a while and the girls left to get CBR tattoos, while Jeremy and I took the Motherboymobile for a ride around San Diego in search of a church to pose in front of.
That night we had our last event, a bar crawl to 5 bars and at each one we would get a playing card. All teams had to buy in using their points, and each card cost a certain amount of points. We had been leading all the teams, but GFS was creeping up and if we didn't win this event, we might not win at all. Pissed off at the premise of this last event, I donned the Slash wig and a "fuck it" kind of attitude. Several beers and shots of Jack Daniels later, I was drunk enough to be disinterested in how poorly my team was doing.
Anica started getting belligerent and making fun of me and I snapped at her. I was so wrapped up in arguing with her I completely missed the part of the night where we lost the event to GFS. Anica and I made peace over some beers and secret cigarettes, and then headed back to the burrito shop for a late night snack. After eating I pushed her back to the hostel in a shopping cart we found while she wore my wig and serenaded me with Cher's "Believe."
Upon returning I was able to witness the most sketchy drug deal I've ever seen, and my team and I took a little walk on the beach where we found what we were (and still are) convinced was an alien. Jeremy, Michael and I met a crazy homeless Haitian guy and once he left we were amazed to find that Ashby had hit it off with a Canadian girl and was making out with her on the back porch. It was finally time for the vacation to end, so Jeremy and I sneaked into our room and climbed into our beds for a few hours of sleep before our early morning departure back to Richmond.