I've heard urban legends of people throwing a bunch of pot seeds into the woods only to come back a year later to find a forest of weed. It's easy to forget what's in your backyard, especially when you're busy. Weeks into months. Months into – you get it.
Maybe you caught a ton of bands at AlleyKatz. Maybe it was the Flood Zone or Rockitz. Or maybe Strange Matter, which was the Nanci Raygun before that. Twisters before that.
If someone were to compile a list of the names of Richmond venues alone, it would go on for years; almost like directional coordinates to where a bunch of great seeds got thrown. Sucks when someone mentions a closed local venue you remember. Sucks worse when you realize it closed 10 years ago. This kinda thing can ruin a day.
Maybe driving home, you have a movie montage nostalgia trip of great times at that venue. Maybe you can't remember half the names of the bands you saw. Maybe you can. Who knows?
Either way, it's good to have a list of the great bands and performers from around here. Just so we all know who everyone was. What I like most about The Richmond Music Catalogue 1980-2021 is that it will continue to grow. Bands who will have their genesis here in the future and bands who already made their imprint on the city will continue to be added to the catalogue over time.
As the styles of music and musical trends have changed over the last 40 years, this list will continue to evolve as we continue to evolve as an artistic community over the next 40 years. Maybe you'll want to take a look in your own backyard. See what someone tossed out there a long time ago. Or maybe toss something of your own out there. Who knows?
That's what we have here in Richmond.
A forest of weed. –Ryan Kent

You can also check out Parts 1 (A-D) 2 (E-J) 3(K-R) 4(T-Z). Enjoy!
Sam Reed, 'Those Words' This is Love
2015 Jellowstone Records
This is Love is an incredibly dynamic piece of work, covering a lot of sonic ground both instrumentally and vocally. On the first half of the album Sam goes through a spoken word intro, "I'll Go", a song with a free-jazz backing track, into two explosive opening tracks, "Come Inside" and "Reel Feel Sound", both songs that have distorted, arena ready guitars, thundering drums, and chugging basslines. They come off as having a hard rock influence, a sound that we haven't heard yet from Jellowstone Records that goes over remarkably well. Then the album gets into "Those Words", a smooth, beautiful, and romantic song, one that stays more within the kind of standard Jellowstone sound established by Butcher Brown that we've come to know and love, yet still delivers on fronts. Its followed by one of the strongest tracks on the album, "True Value", a powerful and emotional piano driven ballad, seething with emotion. — from Atwood Magazine
Sammi Lanzetta, 'Circles' Ceiling Mirror
2020 6131 Records
On the day 6131 Records started accepting pre-orders for Ceiling Mirror, I showed up at their store on Patterson Avenue looking like Fry from Futurama in that "Shut up and take my money" meme. Turns out they were instituting a new in-store pre-order system, and I was the first one to try it out. I'll say this about the 6131 store: They are such friendly people, and even when I don't end up walking out with a record, either because I was pre-ordering a disc or because I was looking for something they ended up not having, I leave feeling happy I stopped in. If you haven't been there, I recommend making a trip there soon. I'd recommend Ceiling Mirror just as highly, and for some of the same reasons, interestingly. Lanzetta conveys this amazing sense of energy, and tapping into it is like electrifying your day. — from You Hear That
She, 'In June' TRL 2004
2020 Self Released
The four-headed group, She, is comprised of singer/guitarist Liza Grishaeva, drummer/keyboardist Tyler Smith, bassist Dino Sanchez and guitarist Seamus McDaniel.
Grishaeva, the band's frontwoman and architect, says she's been waiting for a group of people to work with since she was writing songs at 13 years old. Grishaeva met Sanchez after releasing solo recordings during the summer of 2018, and the two started collaborating.
"We kind of had a proxy band with members coming in and out, and then Dino introduced me to Tyler because we needed a new drummer — and he joined in March," Gishaeva said. "Seamus was the last to join in July, so with this lineup we're really new."
Describing She's sound is a surprisingly difficult task. While most sonically akin to indie rock, the band's expansive and oftentimes theatrical instrumentals are more refined than the average DIY garage band sounds Richmond is known for. Whether it be for the sake of simplicity or due to their genre-bending catalog's inability to be put into just one box, She is moving forward as a self-proclaimed pop band. "Pop is like a base dish; you can add a lot of different elements to pop, and we selectively add what we like from the music we listen to," Smith said. "Because it's still palatable, we like to call it pop. It's a short answer for what would be an otherwise difficult question." — from Commonwealth Times
$ilkMoney, 'Council Shit Feat. Cyrax!' DB$B
2016 Epic Records / Sony
Late one night about a year ago, this Vine showed up in a friend of mine's Twitter feed. A glitchy, enticing song by someone called "$ilkmoney" built around the "your call cannot be completed" tone and paired with a gnarly, informercial-nightmare visual of a CGI phone receiver rotating above a shaking ass? It was both weird and totally compelling.

As it turned out, the Vine — a snippet of the song "Telephone Mane" — was also a perfect introduction to the exciting work of the rap collective Divine Council. The group is composed of Richmond, Virginia-based rappers Lord Linco, Cyrax!, and the aforementioned $ilkmoney, as well as Chicago-based producer ICYTWAT. Their aesthetic is forged in the bowels of the Internet (when you're not at work, check out their website, wet-twat.com), obsessed with dark, 90s-nostalgia imagery and sounds (Cyrax, of course, takes his name from the Mortal Kombat character). They're supported by a ride-or-die social media following (netting six-digit playcounts on Soundcloud regularly), yet the collective is still enigmatic and obscure — from Vice
Sleepwalkers, 'Wake Up!!' Greenwood Shade
2018 Spacebomb Records
I have been waiting for an album like this. It takes a lot for me to like an entire album, and there's nothing more disappointing than a talented band putting out an album that has two good songs and another dozen that fall short. For a band in their infant stages (Greenwood Shade is their first LP), I'm beyond impressed with how developed SLEEPWALKERS' sound is, which is something that even many mature bands can't seem to achieve.
SLEEPWALKERS, the combined genius of Alex DeJong, Austin York, Brad Heef, and Michael York based out of Richmond, VA, released their debut album Greenwood Shade on July 11th. They're upbeat, and familiar, but, at the same time, fresh. The best way I can describe their sound is a newer twist on the classics (The Kinks, maybe even The Beatles)–infectious melodies and raw instrumentals–combined with flowing vocals and layers of clapping, whistling, and echoing background vocals acting as instruments themselves. In an interview with Richmond.com, Michael, on guitar and vocals, said of their sound "It is every type of genre. That's what we like to do" and Austin, on bass and vocals, adds "We didn't want to make a rock album or a pop album or a funk or soul album, but we wanted to put all of it together." They aren't confining themselves to one specific type of music, which gives them the freedom to just create good tunes without the pressures to define what they are and aren't. — from Atwood Magazine
Smoke or Fire, 'The Patty Hearst Syndrome' The Sinking Ship
2007 Fat Wreck Chords
Twelve catchy, anthemic punk rock songs. I wish I could just leave this review of Smoke or Fire's This Sinking Ship at that. But alas, these things have an unofficial word limit so I'll attempt to delve deeper.
"What Separates Us All" does what an album opener should, that is grab the listener's attention with a driving intro and an extremely catchy chorus. "The Patty Hearst Syndrome" follows and showcases a more melodic side, and the first taste of what is a ton of pop-punk styled lead guitar peppered all over this album. "Melatonin," the third track is a tad wordy in its verses but has another great, catchy chorus (noticing a theme yet?). The title track briefly darkens things up a bit and ends up eerily sounding like a Lawrence Arms cover — not that that's a bad thing. "Little Bohemia," to me, is the "California's Burning" of this album, the song you just know will be a live favorite, everyone in the crowd screaming along, hands in the air, waving them like they just don't care, yadda yadda yadda. Run-on sentences aside, the song rules hard. Another highlight is "Shine," a politically-tinged song with an unexpected but enjoyable 90-second instrumental intro. — from PunkNews.org
Sparklehorse, 'Someday I Will Treat You Good' Vivadixiesubmarinetransmissionplot
1995 Capitol Records
"Louder than a dirtbike" was how Mark "Sparklehorse" Linkous described an early musical epiphany – his first encounter with The Animals' The House of the Rising Sun. And when I first heard Sparklehorse's Vivadixiesubmarinetransmissionplot, aged 15, I felt something similar.
It wasn't that it was particularly loud – or at least, not most of the time. Ragged, grungey anthems like "Someday I Will Treat You Good" are moments of glorious release, but many of the other songs are slow, restrained and very sad, with Linkous' vocals reduced to a half-whispered croon. But it seemed wonderfully, beguilingly strange: stranger than anything I'd heard before as a teenager who was just beginning to explore beyond the peripheries of Britpop (I came to Sparklehorse via Radiohead, who were fans). In fact, it's still stranger than most things I've heard since. — from The Guardian
Spooky Cool, 'Black Wine' Every Thing Ever
2016 Citrus City Records
"No recordings. No social media," singer and guitarist Zac Hryciak says. "We wanted to just play shows and build our reputation that way." Judging by the crowds at performances, it's working.
As for its sound: Imagine if the angular, almost experimental indie-rock group Deerhoof sat down to write a record inspired by lush Beach Boys harmonies and you might get an idea of what to expect. The group — composed of Hryciak, drummer Lee Spratley, guitarist Richard Bollinger, bassist Sean T. Williams and vocalist Paula Lucy — writes pop songs that can shift from quaint ballads to interstellar prog-rock anthems. — from Style Weekly
Sports Bar, 'I Was Going To Shave My Beard, But I Took A Nap Instead' Tyler Perry's Sports Bar
2012 Self Released
Their latest effort is called Tyler Perry's Sports Bar. When I ask them about the title, Kemper and Stuart both shrug and say they were just sitting around trying to come up with the funniest name. If you look at the album art of Tyler Perry's Sports Bar, it looks like they all had a craft circle together, everyone adding a touch here and there until their collage was finished and they glued on SPORTS BAR to remind everyone of their extremely un-Googleable name. Guess what? That's exactly what happened. The album is kind of an Easter Egg of garage rock –– every song as catchy as the last and each song title as memorable. The two standouts are "Movie Screams" and "Oh No!", both which have an earnest sadness to them that reminds me a little of The Replacements. This is a huge compliment, as The Replacements now rightfully stand as gods (on top of stacks of beer cases) of alternative rock. When I ask them about the earnestness behind those songs, guitarist Brent playfully responds, "We're dynamic dudes, okay!" Not everything is a fart joke for these guys. — from Alt Citizen
Strike Anywhere, 'Sunset on 32nd' Change Of The Sound
2001 Jade Tree Records
Kid Dynamite. Good Riddance. Dag Nasty –€" all of these bands have had a powerful role in the punk rock & hardcore scene since the beginnings of their existence, whether it being short-lived or continually progressing. There's a new name on the front and they're bearing their strongest weapon, and that name is Strike Anywhere.

With their debut full length out on Jade Tree Records, Strike Anywhere blend the sounds of fast melodic punk rock with a taste of that classic hardcore edge. The band musicianship is outstanding, but that focus is lost while listening to catchy and thought-provoking lyrics. This album makes you think. They cover topics such as women's rights (Chalkine), police brutality (Sunset on 32nd), the overthrowing of corporate power (You're Fired) and government betrayal and emptiness (Laughter In A Police State). Overall, this album is a sing-a-long, youth anthem-inspiring masterpiece. Strike Anywhere are an up-and-coming powerhouse in the political music scene. — from PunkNews.org
Sundials, 'Good Words' Never Settle
2011 Toxic Pop Records

Wow. Twelve songs of the college town blues played with a punk heart and the ramshackle catchiness of '90s indie. I'm having a hard time knowing where to start, since so many things are striking me about this record. Sundials are based in Richmond, Virginia, a dangerous little city with a thriving arts scene based around a rapacious college. Richmond is one of those places where you can pay your rent by working three days a week in a restaurant and take your band on a sweet weekend tour in any direction except east. Sundials sing about the drawbacks of this charmed life: "I traded learning for a coffee shop, and I'm losing money in the long run. Can't advance too far once the curve is done." All three members write songs, and all have a knack for capturing a feeling without being verbose, dumbing it down, or not seeing beyond the beers in front of them. Other topics include gentrification, lost love, southern ennui, Native American plight, and —why the hell not—The Great Gatsby. Their sound mixes punk and indie in a way that has paid off for early '90s bands like Archers Of Loaf, the first couple albums by Alkaline Trio, Against Me!'s more intimate material, and the gruff underdog pop punk favored by Tip-Top Todd Taylor et Le Razorcaque Readershippe. I've been gone from Richmond for the better part of a decade, but some things never change, like the confederate monuments and the fact that the city still spawns awesome bands. Like I said, the college town blues. — from Razorcake
Suppression, 'Mind Control Is Real' Rats In The Control Room
2015 Chaotic Noise Productions

Suppression's irresistible brand of breakneck, noisy powerviolence is more hectic than ever on their new LP from Chaotic Noise Productions. The long-running Roanoke project, which has been active since 1992, has been ramping up both the creativity and intensity on their recent releases (notably the Rats in the Control Room and Oblivion Riders tapes, also from CNP), and the trend continues with Placebo Reality. Running just under a half hour throughout 73 tracks, its length made me skeptical at first; Suppression seems to work best with short album durations, and maintaining such a high energy level is difficult to do. Luckily, I need not have worried. Placebo Reality is a nonstop onslaught of blown-out hardcore, comically brief noisecore blasts, animalistic growls, and surprising moments of catchiness. No, it never slows down, and no, it never gets old; when it ended I found myself asking, already? Everything is dialed up to the max, blending the perfect amount of ridiculousness with the perfect amount of brain melting heaviness to make one unforgettable LP. In my opinion, it's the band's best work yet. — from Noise Not Music

The Catalyst, 'This Bike is a Gravity Bong' Mariana's Trench
2007 Perpetual Motion Machine

With Marianas Trench, Richmond, Virginia's The Catalyst offers up a blend of all things noisy, drawing equal influences from The Jesus Lizard, The Melvins, and Nirvana. The disc's thirteen tracks are a compilation of the band's last three releases, and provide a healthy dose of incredibly dirty yet still heavily melodic three piece rock 'n roll. Despite the songwriting variation inherent in a record that combines multiple releases, The Catalyst never shies too far away from their strong foundation of gritty bass, feedback-drenched guitars, straightforwardly pummeling drumming, and abrasive dueling screams. The disc begins with "This Bike Is a Gravity Bong," a track that combines filthy guitar work and thick Jesus Lizard-esque bass lines that anchor the track with some serious low end. Those who love their rock music soaked in feedback and anchored in gritty low end will find a good match in The Catalyst. — from Lamb Goat
The Diamond Center, 'California' California/Bells EP
2012 Funny Not Funny Records
I can't tell you how long I have wanted The Diamond Center to sound like this. When they arrived to Richmond, the first full-length of theirs that I encountered had so many gems on it. "The Deer Pistol" and "Monsters" were great, and grand in their structure. The band had seemingly transformed away from that sound, and there had yet to be an accurate recorded representation of the change. This seven-inch release, as presented by Funny/Not Funny Records, delivered this in spades. "California" features Brandi Price's lush vocals and a rich musical tapestry that can only be described as heavenly. With this direction in mind, the new full-length that should drop in 2013 should be phenomenal. –from RVA Magazine, January 3, 2013
The Flavor Project, 'Flavor Theme' Frijoles Negros
2014 Self Released

Buttafly Vazquez is a star. Everything the Richmond vocalist sings is fueled with an understated sensual elegance. Part Sade with the earthy gospel root of Chaka Khan, Vazquez is difficult to resist, especially when she fronts a band such as the Flavor Project, whose members are designed to bring out the best of her seductive charms. This is no simple back-up band. It takes a team effort to deliver a good time and that they do every time they set foot onstage. — from Style Weekly
The Gaskets, 'The Easy Life' Loose Change
2006 Driven By Boredom Records
The Gaskets are constantly moving. Musically and geographically, the electro-duo is all over the place. Their jittery music is fueled by thick drum machine kicks that ricochet against poppy, synth-laden melodies leaving its two masters, Teddy Blanks and Ross Harman, as well as their audience, drenched in buckets of sweat. It's a lot of bouncy power coming out of one synthesizer and one Teddy, who sings and dances as though possessed by some new wave spirit. And just when things were taking off with sold-out shows in Richmond, Blanks followed his love of the Big Apple and moved north for a job with an ad agency, leading to a long-distance creative relationship. Now, there's talk of expanding the two-man band to include additional instrumentalists. It's all a bit overwhelming. — from Style Weekly
The Head and the Heart, 'Shake' Let's Be Still
2013 Sub Pop
Since their formation, The Head And The Heart have been doing big things. Forming in Seattle in 2009, the indie-folk sextet began by recording and releasing their debut album on their own dime and selling an unbelievable 10,000 copies at shows and through local record stores. Seattle label Sub Pop took notice, signing the band and rereleasing their self-titled debut in 2011 to an even more overwhelming reception. Since then, their fame has only grown, both through tours with everyone from Vampire Weekend and Dave Matthews to My Morning Jacket and Death Cab For Cutie, and through numerous high profile television appearances.
But the whirlwind of live performances and promotional junkets has kept the group from recording a followup album–until now. With things finally calming down at the beginning of 2013, the band's Richmond-based members–singer/guitarist Jonathan Russell and drummer Tyler Williams–were able to return home, decompress, and soon rejoin their bandmates to record Let's Be Still, the highly-anticipated follow-up to their self-titled debut. They released lead single "Shake" back in August, and with Let's Be Still set for an October 15 release, the band are gearing up for a full-scale tour beginning in October. They're playing a few festival dates before the album drops, but for the most part, Jon and Tyler are back in Richmond right now, and we caught up with them to discuss the making of the new album and what it's like to come back to your hometown after making it big. –from RVA Magazine, September 9, 2013
The Hustle Season, 'All Night' The Hustle Season Vol. 1
2020 Self Released
The Hustle Season podcast has been my go-to auditory coping mechanism during this unfathomably tense week. Speaking of losing yourself — it's been such a relief disappearing into discussions of Phil Collins' relationship troubles, magician-shaming, and the surprising awesomeness of the AC/DC comeback. I'm a relatively new listener, so I'm in that honeymoon phase of familiarizing myself with all the regular segments and recurring jokes, but no additional research is needed to know that the show's hosts (Reggie Pace, Gabriel Santamaria, James Seretis, and Kelli Strawbridge) bring a super-deep pool of musical talent to the table, and their Volume 1 LP provides a kaleidoscopic glimpse of those varied interests and abilities. I definitely recommend giving "The Day The Nationalists Came" a listen as a way to process the week's political news. In that sense, the Hustle Season has helped me both escape from and engage with this challenging and historic time. I'm deeply grateful. — from You Hear That
The Last Real Circus, 'Chaplins Life' Chaplin's Life
2021 Self Released
The Last Real Circus are a Southern Indie Rock band based out of Richmond, VA. The band has quickly gained a big following with loyal fans from all over, with their soulful heartbeat singles. They are known for their energetic stage presence, storytelling and overall musicianship. — from The Nick Rocks
The Mighty Joshua 'The Mighty Joshua' The Mighty Joshua
2013 Self Released
As for the band, its first album, self-titled "Mighty Joshua," was released in the beginning of 2016 and features the single "Full Circle." The release has been successful and the band is on the road in short bursts with three or four shows at a time and is booked solid for May. The group stays grounded through its busy schedule with meditation and a little bit of fun. The aforementioned keyboard player, Chris Whitley, is an avid storyteller and entertains them while on the road with old reggae memories. Whitley stills tours with Corey Harris.
"We usually pause before playing for a little group meditation," Achalam says. "There is so much work up to the point that you strike your first note, so it's nice when we can hold hands and center ourselves for even one to two seconds to remember why we are here. If we miss our moment together, I just hug each individual and tell 'em that I love 'em! Because I do. I recognize the sacrifice they all make to get to that point." — from Richmond Magazine
The Milkstains, 'Carolina O'Keefe' Broken Bones
2014 Self Released
As Katchinoff and Sizemore recall, the story of The Milkstains began in 2004. "We were both in high school at the time, trying to find an excuse to play music together," Katchinoff recalls. Although the two had differing musical interests, they were able to find a common ground in their budding desire to play music. "I know I was more into reggae than John," Katchinoff says now. "But I think we found a similar place in spaghetti westerns, surf rock and Hank Williams." The Milkstains began as a duo, and it was an exercise in figuring out their respective instruments, which they did initially by treading through inspired covers. — from RVA Magazine August 15th, 2012
The Mitras, 'Dirt' Meet The Mitras
2019 Self Released
The Mitras are an Alternative Rock band from Richmond, Virginia. Formed in 2019 by front-man Sean Moran writing original material and sharing it with Richmond locals Austin Miller and Russel Redmond who joined on the project playing bass and drums (respectively).
Drawing inspiration from garage and punk rock outfits such as Nirvana, The Vines and Team Spirit and blending it with simple, stripped down pop rock like The Strokes, The Vaccines, and Tom Petty, The Mitras are a performance forward 3 piece rock band bringing raspy, strained vocals, driving rhythms and screaming guitars to life on stage. — from Hot Lunch Music
The Northerners, 'Future Memories' Future Memories Single
2019 Self Released
The Northerners are a brother and sister led Indie-Rock band from Richmond, VA taking most of their influences from 60's and 70's classic rock. The bands sound has been described as part nostalgia, part new indie-rock. The siblings have been playing music together since 2012 and have since opened up for Lord Huron, sealed a residency at The Camel in Richmond, VA, and have had a choreographed ice show made around their music. The newest release from the band is their LP self-titled "The Northerners" which is steering the band towards a livelier more electric approach than their folky EP debut "Virginia". — from Spotify
The Riot Before, 'You Can't Sexy Dance to Punk Rock' Fists Buried in Pockets
2008 Say-10 Records
Fist Buried in Pockets is the first full-length for the Riot Before as a full band, but you'd never know it considering how accomplished and seasoned their brand of folk-punk sounds. And don't let the term 'folk-punk' discourage you — this isn't your typical gruff, indecipherable noise that's often unfortunately associated with that label.
The deliberate, minimalist approach employed in the opening title track molds suprisingly well with its fierce followup, "Threat Level Midnight." Gang vocals adorn the spots around the confident vocals of Brett Adams, and "5 to 9" (nope, it's not A Wilhelm Scream cover) features galloping drums, noodling guitars and a ton of calculated speed. Some clever lyrical play in that song segues into the next track, "You Can't Dance Sexy to Punk Rock," chock full of double-time drum fills and effective "whoa"s in the background, not to mention some suprisingly intricate guitar work. –from PunkNews
The Trillions, 'Ctrl-X Ctrl-V Tritones
2012 Self Released

"Ctrl-X Ctrl-V" (aka "Cut And Paste") is the second single from the RVA indie-rock band's debut full-length, Tritones, released earlier this year on Worthless Junk Records. As with many of the Trillions' songs, "Ctrl-X Ctrl-V" relies on the skills of guitarists Charlie Glenn and Chris Smith, who spend most of the song's duration playing clean single-note melodies on the higher frets of their guitar necks, forgoing the distorted guitar crunch that's become almost de rigeur in the modern indie world in favor of an unusual sound that slightly resembles the soundtrack to an 8-bit video game. With this tactic brought to bear on the incredibly catchy and memorable melodies that make up this song, though, this distinctive approach becomes a major point in the Trillions' favor, helping to firmly embed the song's melodic hook in the memories of every listener who encounters it. — from RVA Magazine November 7, 2012
The Trongone Band, 'Blind' Keys To The House
2018 Self Released
Hailing from Richmond, VA, The Trongone Band is touring in support of their 2017 debut album, Keys to the House, released on Harmonized Records. With a sound that Paste Magazine likens to the "freak-outs of My Morning Jacket with the Muscle Shoals-inspired Leslie speakers and The Band's narrative storytelling", The Trongone Band is turning heads and making an impact on the Southern Rock 'n' Soul and Americana scenes.
Formed by brothers Andrew and Johnny Trongone with father John Sr on bass, The Trongone Band (tron-GO-knee) has grown from a family affair, playing a weekly sold out residency at Richmond's Cary Street Cafe, to a full on touring machine with the addition of keyboardist Ben "Wolfe" White and bassist Todd Herrington. In the words of Live for Live Music, "the quartet has come together to create an old-school and all-in-the-family sound reminiscent of the Allman Brothers while still keeping it fresh with their cutting edge original compositions that also infuse funk and blues into the mix." — from First Avenue
Tim Barry, 'Wait at Milano' Rivanna Junction
2006 Chunksaah Records
While there have been many, perhaps the most interesting style to emerge over the past decade has been that of the "folk-punk" performer. Taking the attitude of punk rock and the stripped down, softer sounds of folk, a number of punk frontmen have used this style as a release for some of their more introspective songs. Though these genres may seem quite distant, it is the honest, soul-bearing sentiment that can be found in both that serves as a bridge between the two.
Though many singers have taken this solo approach, few have done so with as much sonic beauty and heavy emotion as one finds in the work of Avail frontman, Tim Barry. While one can easily make the case that Avail was a punk band that concentrated on melody far more than a majority of their peers, the true abilities of Barry were not seen until the early 2000's when his first solo album his shelves.
After a few attempts, Barry achieved what is without question his finest musical moment in the form of 2006's Rivanna Junction. Touching all sides of his talents, the album offers a song for every music fan, yet when taken as a single work, it is without question one of the most moving and beautiful records of the entire decade. Each track offers an amazing lyrical journey, as Barry proves to be one of the finest writers of his generation, and the varied musical approach keeps the album fresh. Though every song on Rivanna Junction is worth hearing, few carry the emotion and impact as one finds in Tim Barry's 2006 track, "Wait At Milano." — from The Daily Guru
Toxic Moxie, 'Talking Hands' Episode IV
2013 Self Released
Soon after Stavroula joined the band, the four began to start work on their debut release Episode IV, which was released in August of that same year. Crawford helped to mix the recording, a role he's retained for every Toxic Moxie release up to this point. "Our first release probably took longer in general due to our inexperience with recording," Shear says. The band was also playing out frequently, which helped them develop a unique sound almost immediately. "Our first set of songs gravitated more towards our punk leanings, but our other influences were still being captured," Kordella says. "Our influences jump from LCD Soundsystem to Rapture to Gang of Four to Prince to David Bowie, and I think glam and post-punk pops its head out in a lot of our songs," Shear adds. — from RVA Magazine August 11, 2015
True Body, 'Spirit City' Heavenly Rhythms For The Uninitiated
200 Self Released
True Body's debut record Heavenly Rhythms for the Uninitiated marks the 2nd release of the year for Funeral Party Records. True Body is a post punk and new wave band with goth-like influence from Richmond, Virginia who have spent the majority of their time as an active band releasing a couple of singles and EPs. They have been active since 2015 and up until now this would mark the first time they have released such an effort and the time has paid off. The record is ten tracks of really deep and powerful songs that sounds like such an original experience. Isabella Moreno-Riaño's vocals are haunting and also beautiful as the words echo out in an opera like resonance. This has turned into a fine release for the band and Funeral Party Records.
The first track and single is "Spirit City." The song is a combination of different types of genres and is upbeat, and really addictive. "Holy Child" with its haunting synth opening and really dark instrumentation is a bleak and intense look at the band as they begin to bring up the volume. This song is a change of pace and mood since the previous, and has a real Joy Division like feel that True Body is able to make their own. The whirling guitars ringing out and Isabella's vocals combine nicely for a track that is wild and anarchic sounding. "Chain" moves towards a more mellow sound that's on pace with the opening track. The mood would mostly be described as somber, with some really heartfelt like instrumentation and vocal delivery. — from Whip
Tulsa Drone, 'Vendetta' Songs From A Mean Season
2008 Self Released
People often label it a soundtrack band, but the atmospheric, mostly instrumental Tulsa Drone — featuring the unique, metallic tones of the hammered dulcimer — hasn't actually done much soundtrack work. Its members aren't opposed to the idea, though.
It's just that the main forces behind the group, Erik Grotz and Peter Neff, don't really like to pitch their music. They'd much rather be working on new material.
In addition to preparing its next full-length album, the band is at work on a five- or six-song EP tentatively titled "231," which Grotz says will feature prerecorded "found sounds" that cannot be performed live. These include recordings Grotz made of passing trains that will be used as a backing rhythm loop instead of live percussion.
"It's mostly an exercise in writing," Grotz says. "We practice right across the street from the CSX line that runs through downtown. Trains have always sort of influenced what we do." — from Style Weekly
Tyler Meacham, 'Say Yes' Property
2019 Self Released
Whether dance floors are open or closed, pop music retains its power to move us, distilling complex emotional experiences into art that resonates the moment it hits our ears. That immediacy is a hallmark of songs by indie-pop singer and songwriter Tyler Meacham. –from Style Weekly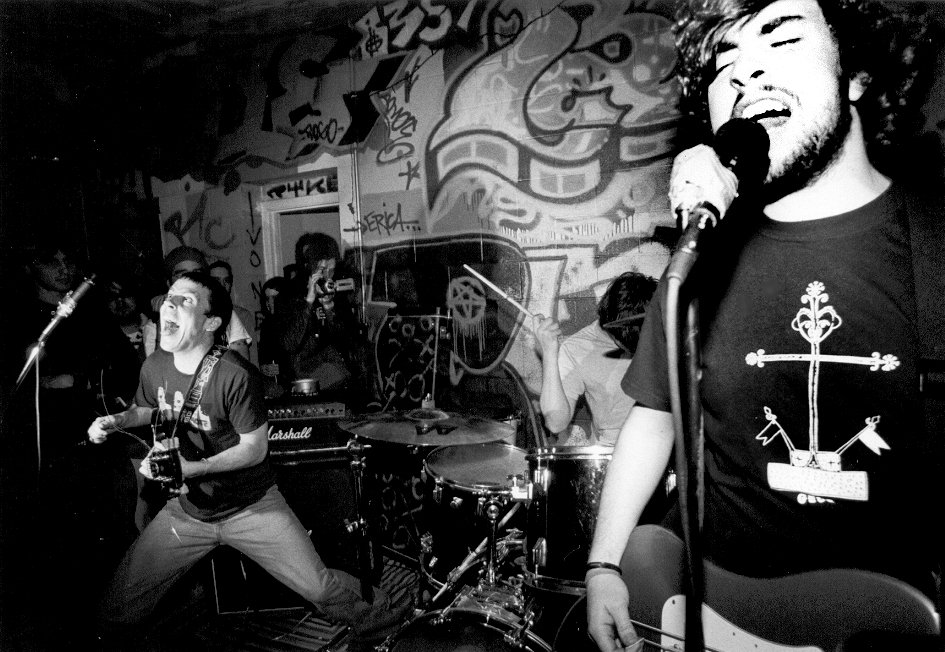 Ultra Dolphins, 'Duck Butter, Then' Why Are You Laugh
2006 Self Released
From the moment I received their EP compilation of old material, Why Are You Laugh, Ultra Dolphins have given me a serious challenge in trying to describe them. Their long-awaited first full-length, Mar, really does anything but to the band's reputation; it's even weirder than past compositions, impossible to pigeonhole and subsequently just as frenetic and disorderly as the band have ever been.
The best reference point I think I could use for Mar is Drive Like Jehu, as Ultra Dolphins seem to borrow quite a few characteristics from the early-`90s act. There's more stops and starts here than a 20-mile drive in rush hour traffic, with a feverish jauntiness prevalent through every single track, and as clean as the recording is, they manage to maintain a certain, strange dissonance. — from PunkNews.org
VCR, 'Bratcore,' VCR
2003 Pop Faction
Call it electro-clash or dance-punk, call it new wave, call it vapor wave, or call it what we call it "FUNCORE!" It's VCR! Five piece art-punk greats from Richmond, Virginia, VCR have written some of the smartest, funnest, most danceable synth pop tunes you will ever hear, infused with an art-punk spirit.
VCR features multiple keyboardists and synth-players, male / female vocals and a four-on-the floor rhythm section. Recommended if you like bands like Devo, The Faint, Combat Wounded Veteran, Metric, Suicide, Alan Vega, The Network and Flock Of Seagulls. — from Riot Style
Voarm, 'Invective Transcendence' Voarm
2019 Forcefield Records
Power is my glory and darkness is my light! I think I find solace in heavy riffs and scathing vocals because this world can be a real piece of shit sometimes, and music can assuage my soul when it's burning with frustration. I'm feeling that way right now, and the rumbling blackened doom of VOARM is channeling my pain and reminding me that there is beauty in the rawest, darkest of places. Today we're happy to share that their self-titled record will be out in late September via the awesome Forcefield Records! — from Cvlt Nation
Warren Hixson, 'Baby Boogie' Cruel Whims
2013 Self Released
Warren Hixson is the project of local songwriter and guitarist Brent Delventhal. He says this track was started in his little 8- by 10-foot cabin and outbuilding in Jamestown, Colo., in 2009, and finished later with friends in Boulder. For the original song, he used a Casio beat for a metronome and then did the guitars, which were a '60s hollow-body Teisco and a '90s Stratocaster, recorded to a Yamaha MT 120 four-track cassette recorder. The finished product was cleaned up and taken off his 2012 album, "Cruel Whims," and it features infectious hand claps and almost new wave hooks that recall classic punk bands such as Devo as well as more recent indie-rock acts that Delventhal listened to in college, including Sonic Youth and Neutral Milk Hotel. Some call his style surf pop. "I remember trying to do the vocals with red wine but they got too scrappy," Delventhal says. "So I tried again with light beer and that worked better." — from Style Weekly
White Laces, 'Hands in Mexico' Sick Of Summer
2011 Egghunt Records
Explaining the exact nature of what you'll hear when you listen to a White Laces album is a challenging exercise. Imagine discovering a thirty-year-old LP, caked with grime and dirt, and popping it onto an old, red plastic turntable. Picture the needle wobbling as it finds the groove and you'll start to get a sense of what this band is about. White Laces encompasses that specific notion of seeking, expressed through the washed out chords of an indie rock dreamscape. — from Whurk
Windhand, 'First To Die' Eternal Return
2019 Relapse Records
"The inspiration for the video started with the lyrics, First you die, to be born," Grenade explains. "I immediately saw the image of a woman suffocated by the crushing anxiety of a metropolis; drowning in the delirium and being forced through some sort of psychedelic death trip and coming out the other side with a new point of view. A psychic death and rebirth. The video expresses anxiety and transformation while honoring the beauty of Windhand's music." — from Bravewords
Wow, Owls!, 'I'll Be Your Huckleberry' Pick your Patterns
2005 Perpetual Motion Machine
Wow, Owls! display an interesting mix of indie/garage rock, emo and hardcore on their one and only LP "Pick Your Patterns" that warrants more attention than they ever got. The vocals are raw, throat-tearing screams that often switch into simple shouted vocals, backed up with gang vocals for fun anthem moments, chanting "we will dance like everyone's watching" that feel more catchy and carefree than anything. Which is where I think Wow, Owls! mainly exceed, as they sensibly fill their sound with bouncy guitar rhythms, bass-lines and shouts that lean more towards fun indie rock than hardcore. The vocals rarely leave their comfort zone, never moving into that cringe inducing, strained, and choking on tears sound many vocalists attempt in a bid to sound troubled. Emo influences mainly come through in the lyric , as lamentations such as "I'm a monster inside" are screamed out and strewn across emotional build-ups and frenetic hardcore riffs.

However, Wow, Owls! sound much more content and resigned in whatever sadness they feel than other emo bands, as often songs tread the middle ground of hardcore/emo utilizing staccato riffs, mathy guitars (thankfully non excessive) gang vocals and meandering bass lines to create a slower paced contemplative atmosphere. Melodic guitar parts that are somewhat reminiscent of Hot Cross, often lay the grounds for build-ups into fuzzy garage rock-esque choruses, carried along with competent punk drumming. –from Sputnik Music
Young Flexico, 'Fish Aye'
200 Self Released
"I try to have fun with it. The point of this is to do this stuff, and we don't want to work normal jobs and have to be serious all the time." That's Young Flexico, a Richmond rapper, visual artist, and marketing guru. "Not everything needs to be super serious. That's not the mood I'm in, really," he said. "I'm not going to say I'm in a goofy mood all the time, but I'm not in a serious mood all the time."
For Flexico, it's more about authenticity when it comes to subject matter in music.
"I couldn't imagine making music that was just serious all the time. I mean, I can hit that pocket — but I've got to be already there [mentally]. But I don't really be living like that," he said. "Like, you don't go in the studio and just be serious, you know? It was hard for me to rap about things I don't care about as much. I feel like some artists try to touch on topics because they're relevant, but some stuff isn't really relevant to them. I think it [doesn't] connect with the listener because they can feel it's not real." — from RVA Magazine December 30th 2019
Young Scum, 'Itchy Sweater' Young Scum
2018 Citrus City Records
The style that Young Scum have been mining over the last half-decade is rooted in 80's jangle pop like Television Personalities, The Wedding Present, and Teenage Fanclub, but Smith's songwriting makes the band more than just a retrospective. He writes songs with straightforward and honest lyrics that are relatable to twenty-somethings who are trying to find a balanced lifestyle amidst the meta-chaos of the today's cultural climate.
Smith said that he likes to write about the mundane struggles of life, like having bad jobs or bad life experiences. And while many lyricists tend to obscure what they are saying, either mumbling their lyrics or burying them beneath reverb, Smith's vocals are high in the mix, a candid approach to writing and recording lyrics that is reminiscent of Belle and Sebastian or The Smiths. — from RVA Magazine June 21st 2018
Zac Hryciak and the Jungle Beat, 'Eh Ah Oh Owah' Live In RVA Vol. 5
2013 The Horn RVA
Zac Hryciak and the Jungle Beat defy genre, so it's up to you to decide what they are. The band seems to pride itself on its eclectic style and its sometimes befuddling band descriptions. My description made the headline this time, as "chamber folk, Afrobeat, vocal harmonies and solid songwriting. — from RVA Magazine May 13th 2013
You can also check out Parts 1 (A-D) 2 (E-J) 3(K-R) 4(T-Z). Enjoy!