Thanksgiving is upon us, and we can all hope that sharing some time and fun with friends is a part of this day we will enjoy. No matter what is going on, chances are that you will be enjoying a meal, and maybe you're in charge of cooking or providing a part of this meal.

Thanksgiving is upon us, and we can all hope that sharing some time and fun with friends is a part of this day we will enjoy. No matter what is going on, chances are that you will be enjoying a meal, and maybe you're in charge of cooking or providing a part of this meal.
Sometimes it's up to you to bring a dessert, a special drink, or possibly even a side dish. I was asked to provide some ideas for beer pairings to the Thanksgiving meal, but I want to take a step further.
So we present to you, RVA Mag President John Reinhold's Music – Thanksgiving meal – Beer Pairing masterpiece, because why not. If we are going to do this right – then let's add some metal to the mix and bring in the holiday spirit!! As usual, I'm oh so serious about all of this, so send us pictures if any of it goes down.
Hors d'oeuvres
It has begun, it's possible to make it through this day I promise. There could even be a nap in it for you if you're lucky. But we need to get it started right, and that means you need to go shopping and bring the good stuff to the party. Trust me your relatives are going to love what you're about to bring to the table!
Music:
To get things started let's grab our friends and family, smile and think about the feast ahead. Put out the hors d'oeuvres and sing this happy song. And what better band than our very own local feasters – Municipal Waste! This great holiday tune really gets your in the mood to take down this cheese and beer. Watch it and know we can get through his holiday this year by feasting properly just like Waste shows us in the beautiful video. Your family will approve I am sure!
Cheese:
Oh yes, we must start with some real good stinky cheese for our first pairing. What I would go for is a nice blue cheese (Roquefort, Point Reyes, Stilton) with some kind of serious jam like a habanero jam or ghost pepper jam. You're going for full on destruction here of the tastebuds – it needs to wake you up , and think about what's going on right now. Remember to add the beers below in between tastebud destruction.
Beer Pairing:

Grand Larceny
Stinky cheese and beer, really? Duh. Grab something that will make this cheese stand out. I would go a for a big Belgian triple or big IPA of some sort – here are some that come to mind: The Veil Brewing Co.'s Master Shredder, The Answer Brewpub's Grand Larceny, and Three Notch'd Brewing's Hops Addition. Just a few big ones to clean that palate while you deal with whats ahead.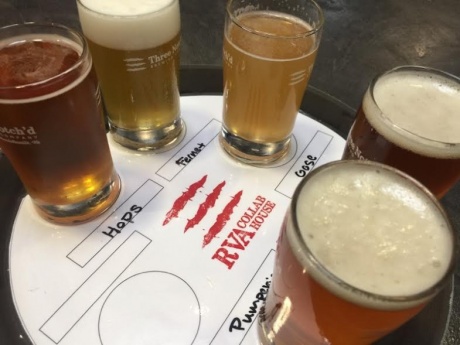 Break Time
Wow Thanksgiving day just started and we are already are ready to tap out. We have a few more hours to go to just get to the Turkey. How will we avoid talking to our uncle all the while somehow keeping him from taking all of the good drinks. People are still dealing with that last video, perhaps that was too soon. My god!!! Someone brought out egg nog at 12 pm, that's a bad move. We need to slow things down, so let's go into plan B right now.
Music:
Well they actually cried when we played the last song, and my mother now officially thinks I'm Satan. I didn't mean for the kids to see that, but oh well. Let's calm it down and gain some trust. Now to play something topical that can work for the whole family. Chances are that my uncle will put his arms around me — that could be a problem but at this point someone has to bring us all together. So get the fruit plate out – put on "November Rain" and hope for the best.
Chocolate & Fruit:
I know it seems counter intuitive, but yes some chocolate is a must if the tears start to flow. You go basic for your uncle with Hersey's, but save the good dark stuff for those that know. My favorite dark chocolates are as follows: Iceland Chocolate (my god), Pascha Bars (Allergy Free), Theo Bars (Bacon!). Now fruit is a good thing to clean the palate and bring some calm to the storm. Bring some strawberries and pineapple with maybe some raspberries and grapes. You can always mess with the kids with the grapes and tell them to close their eyes they are eyeballs – that's always fun.
Beer Pairings:
Well here you get to make the choice to go strong or go light – it all kind of depends on if someone hit repeat on November Rain I would think. For the chocolate lover something dank might help bring you to the next phase and take you to the next meal. For those lovers try these: Legends Chocolate Porter, Lickinghole Creek Virginia Black Bear, and Isley's Choosy Mother aptly named for this Holiday season. If the fruit is more your liking, then I think we go a bit lighter, and we try to get then off the nog and onto this: Strangeways Albino Monkey, Smartmouth's Alter Ego Saison and Hardywood Singel would be good.
The Main Meal:
So hopefully you have made it this far without duking it out with grandpa over the election. If you did bring all those things and music into the mix – I feel you have a good chance. But here it comes – the main meal. For a lot of us, that means turkey, stuffing, cranberry sauce, sweet potato casserole…you get the idea. We are all in it together at this point, and I think you need to make your presence felt. Remind everyone of what this time is about – it's about our roots. So crank up the tune, turn up – get family involved!
Music:
"ROOTS BLOODY ROOTS!" Perfect Thanksgiving song to really feel the spirit. Let them know that you just want to bring it back to the basics – then make sure and yell the part: LET ME FREAK! – sets a good tone for the Turkey dinner. Make sure and help serve food while singing in their ears at top volume they will really show their appreciation for you then. Ask for the whole family to get into it dancing and stomping around, the kids will love this part. It's a full on food fight and mosh pit.
Side Dish:
You have to make sure and take control of this side – don't let anyone take away the sweet potato casserole from you, fight for it!. You can make it better for sure. First the most important thing is to bake them only – DO NOT DARE do it any other way. It makes the inside get more caramelized and yummy, then add some salt and butter (or butter substitute) and mix – dash of brown sugar or cinnamon if you like. Then simply add the marshmallows and bake for a bit until golden on top. If your going full full Bloody Roots style you can add some kind of blood looking syrup to the top for a nice Thanksgiving touch.
Beer Pairings:
Well you have done it now, brought a full on mosh pit to this oh so holy holiday. Little cousin Jimmy is looking insane marching around the table throwing the sweet potato. Your aunt is in the bathroom crying, and your brother in law is drawing up some kind of paperwork that's bound to be bad. Dad has opened the next bottle, and your mom won't stop shooting the daggers at you. Your Uncle is in rare form making no sense, but at least he is on your side for now. But you need to break out some beers again, so let's concentrate on that. Let's make sure and cover all bases and go for a few special brews that work with this big meal. IPA's: Falcon Smash by Triple Crossing, and West Coast IPA by Green Flash. Need something a with a little more kick? Try For the Elders, a Belgian Red by Garden Grove Brewing Company, or Kilt Flasher by Devils Backbone.
Dessert:
It's a struggle to stay awake, even with you adding all the fun earlier. The meal is starting to take effect and we are all dragging. But you knew we would be here, and it's time to bring out the sweets and the good drink. You probably need to talk to mom and give her a pep talk, also for the love of God offer to help with the dishes after. Let's find a way to wind this all down and bring us to nap time and make it yet another successful holiday for the books.
Music:
They might not trust you after the last time, so you have to work it a bit. Bring in the good beers and good desserts. Make friends again, laugh and smile. Slowly make your way to the box, avoid mom's eyes at all costs. Pay off nephews in candy or small change – don't let them try and play you either. Good news is that Bad Brains starts this one off with a very nice chant of give thanks and praises, that will get everyone feeling good. Then boom – Bad Brains kicks it in, and keeps it going until the really amazing shout out to Bob at the end. I think everyone can get down to this song, it's so good.
Tiramisu:
If you live in RVA you can get some really banging Tiramisu at 8 1/2 and Mama Zu. It's so good. But you could also opt to make it yourself and add way more booze to it. That really knocks them for a loop. So I think you go for this in some form or another. By now everyone needs that coffee to help get a bit of pep in their step – and you can help bring it.
Beer Pairings:
Well it's the end of day – food has been crushed, so it's time to have that special drink with the desserts. I think we can all agree we want to open up the Ginger Bread Stout by Hardywood or a variant of it at this time. It's the kind of thing everyone will like and enjoy. Even your uncle who usually drinks Coors Light will say "well damn this is good!" – Mom will even have a sip and make a face of approval. It's a good ice breaker honestly. Let's list some more beers on that level you can open for a special night cap: Tirami'zu Brew by Strangeways, Space Heater by Three Brothers, and Dark Hallow by Blue Mountain.
Well there you go you made it, people have had a good if not kinda silly time, good food and drink was shared for all.
Here's something for you, we at RVA hope you have a fun and happy holiday!!